Goal 2: End hunger, achieve food security and improved nutrition and promote sustainable agriculture
Goal 2 addresses a fundamental human need—access to nutritious, healthy food—and the means by which it can be sustainably secured for everyone. Tackling hunger cannot be addressed solely by increasing food production. Well-functioning markets, increased incomes for smallholder farmers, equal access to technology and land, and additional investments all play a role in creating a vibrant and productive agricultural sector that builds food security.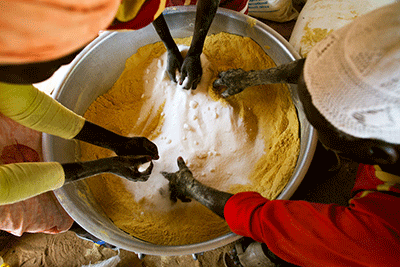 Photo Credit : © UN Photo/Albert González Farran
---
Malnutrition affects an alarmingly high number of children under age 5
Far too many children under age 5 are stunted, wasted or overweight—all of which are manifestations of malnutrition.These conditions put children at greater risk of dying from common infections, jeopardize their cognitive development and increase their vulnerability to non-communicable diseases later in life.
In 2016, an estimated 155 million children under age 5 were stunted (low height for their age), down from 198 million in 2000. Globally, the stunting rate fell from 32.7 per cent in 2000 to 22.9 per cent in 2016. Southern Asia and sub-Saharan Africa accounted for three quarters of children under age 5 with stunted growth in 2016.
In 2016, an estimated 52 million children under age 5 worldwide suffered from wasting (low weight for their height). The global wasting rate in 2016 was 7.7 per cent, with the highest rate (14.9 per cent) in Central and Southern Asia. More than half of all children (27.6 million) suffering from wasting lived in Southern Asia. At the other end of the malnutrition spectrum is being overweight, which is increasing in many regions. The number of overweight children under age 5 worldwide increased from 30 million (5 per cent) in 2000 to 41 million (6 per cent) in 2016. The highest rates of overweight children under age 5 in 2016 were seen in Oceania (9.6 per cent), Northern Africa and Western Asia (9.0 per cent), and Northern America (7.8 per cent).
---
Without accelerated progress, hunger will persist beyond 2030
At the current rate of progress, the world will not meet the zero hunger target by 2030, despite major advances since 2000. The proportion of undernourished people worldwide declined from 15 per cent in 2000-2002 to about 11 per cent in 2014-2016. LDCs and landlocked developing countries made the most progress. However, about one in four persons still suffer from hunger in those countries.
Globally, about 793 million people were undernourished in 2014-2016, down from 930 million in 2000-2002. Southern Asia faces the greatest challenge with about 281 million undernourished people. In sub-Saharan Africa, the hunger rate has fallen by 7 percentage points since 2000. Still, the number of undernourished sub-Saharan Africans has increased by 16 million—reaching 218 million—reflecting the region's high population growth rate. The two most affected regions accounted for 63 per cent of undernourished people globally in 2014-2016.
---
Increased efforts are needed to achieve the 2020 target on maintaining genetic diversity
Plant and animal genetic resources are essential for improving breeds and crops and their ability to adapt to changing environments and human needs. Moreover, maintaining and conserving genetic material from existing plants and animals could counter extinctions.
By the end of 2016, 4.7 million samples of seeds and other plant genetic material had been conserved in 602 gene banks across 82 countries and 14 regional and international centres. Over the past 11 years, the rate of increase in gene-bank holdings has slowed. Genetic material from animals has been cryoconserved for 15 per cent of national breed populations, according to information received from 128 countries. However, the stored material is sufficient to reconstitute only 7 per cent of the national breed population. Therefore, accelerated progress is needed to conserve genetic resources from plants and animals in order to achieve the SDG target.
---
Foreign and domestic official investments in agriculture are lagging
Investing in agriculture is widely recognized as one of the most effective ways to alleviate poverty, improve food security and reduce hunger and malnutrition. However, both foreign and domestic official investment in agriculture has been declining. The share of aid to agriculture in sector-allocable aid from member countries of the Development Assistance Committee of the Organisation for Economic Co-operation and Development (OECD/DAC) has fallen from nearly 20 per cent in the mid-1980s to only 7 per cent in 2015. It has remained at this level since the late 1990s, reflecting a shift away from the financing of infrastructure and production towards a greater focus on social sectors. Government spending on agriculture has not been proportional to the sector's share of gross domestic product (GDP) either. The global agriculture orientation index—defined as agriculture's share of government expenditures divided by the sector's GDP— fell from 0.38 in 2001 to 0.24 in 2013 and 0.21 in 2015.