Data for Evidence-based VNRs
---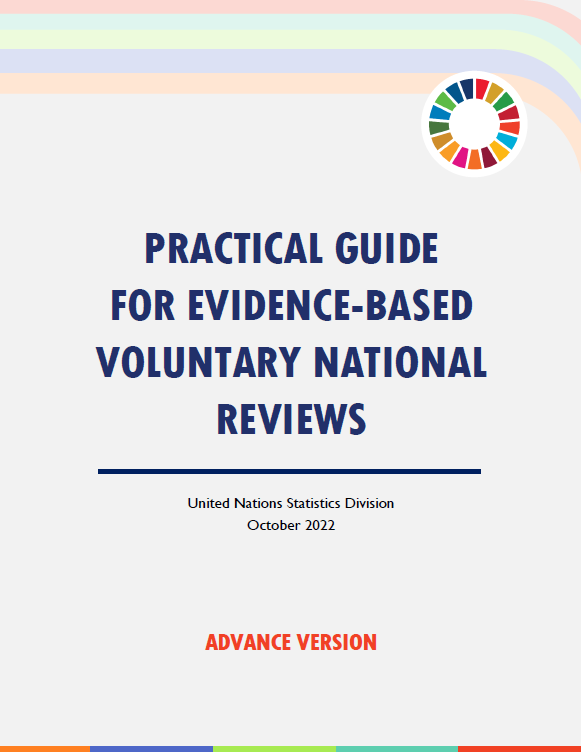 Voluntary National Reviews (VNRs) are meant to support governments in reviewing implementation of the Goals of the 2030 Agenda through the opportunity to mutually share experiences among Member States. Several resources have been developed to support Member States in different aspects of the VNRs. This guide is meant to serve as a complementary resource for Member States on how to use data and statistics on SDGs to support evidence-based VNRs.
Data are being widely recognized as strategic assets in building back better and accelerating the implementation of the SDGs. Therefore, data and statistics are a vital element of VNRs to accurately demonstrate SDG commitment and progress. There are steps governments can take to ensure their VNR process is data driven and evidence based.
Using a roadmap approach and good practice examples, this guide suggests key stages in the national VNR process that can enhance the use of data for evidence-based VNRs. It explains all stages in VNR data preparation and presentation, from identification of needs and planning to post-evaluation of the data aspects of the VNR process.
About this document
The guide is designed as a practical resource to help governments make their VNRs more evidence based. It provides recommendations for what should be reported in VNRs, how to compile and present statistics in VNRs and what information to include in these reviews. Using examples from VNRs (primarily from 2020 to 2022) and VNR workshops, the guide presents good practice examples of solutions to data challenges involved in preparing VNRs. The guidance demonstrates how the VNR process can be more data-directed based on country experiences. This focus on evidence for SDG reporting can help governments use the VNR process to also identify strengths and weaknesses of the statistical systems and areas for which statistical capacity building is needed. The advance version is made available to assist countries currently developing a VNR. A final version will be forthcoming .
Data and VNRs: Additional Resources
Custodian agency VNR resources and trainings
Compilation of responses from SDG custodian agencies for VNR-specific and indicator and target-specific resources and trainings (Excel file)
UNSD workshops and meetings