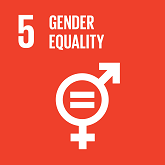 Achieve gender equality and empower all women and girls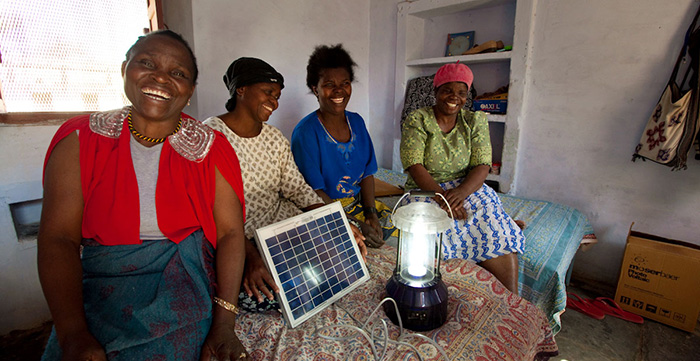 Women travel across Africa to take part in a six-month training programme to become solar engineers. The photo above shows graduates from Liberia and Malawi.
© UN Women/Gaganjit Singh
The social and economic impacts of the COVID-19 pandemic have adversely affected progress towards gender equality. Violence against women and girls has intensified; child marriage, on the decline in recent years, is expected to increase; and women have suffered a disproportionate share of job losses and increased care work at home. The pandemic has highlighted the need to act swiftly to address pervasive global gender inequalities. Women have played a central role in the response to COVID-19, as frontline health workers, care providers, and as managers and leaders of recovery efforts. Yet they remain underrepresented in leadership positions, and their rights and priorities are often not explicitly addressed in response and recovery measures. The crisis presents an opportunity to re-shape and rebuild systems, laws, policies and institutions to advance gender equality.
---
Violence against women persists at unacceptably high levels and has been intensified by the pandemic
Nearly one in three women (736 million) have been subjected to physical and/or sexual violence at least once since the age of 15, usually by an intimate partner. Intimate partner violence starts early. Among girls and women who have ever been married or had a partner, nearly 24 per cent of those aged 15 to 19 years have been subjected to such violence, as have 26 per cent of those aged 20 to 24.
Disparities in intimate partner violence are found across regions, with consistently higher prevalence in low- and lower-middle-income regions compared with high-income regions. These variations are likely to reflect the challenges that women often face in leaving abusive relationships, such as insufficient economic resources, limited availability and access to formal support services, weak social support networks, and fear of repercussions associated with social stigma. The current pandemic has heightened the challenges of women in abusive relationships.
Global prevalence of physical and/or sexual intimate partner violence against women, by age group, 2000–2018 (percentage)
---
COVID-19 threatens global progress against child marriage
Over the past decade, the practice of child marriage has declined significantly, with the global proportion of young women who were married as children decreasing by 15 per cent, from nearly one in four to one in five. As a result, the marriages of some 25 million girls have been averted. However, the profound effects of the COVID-19 pandemic are putting girls at higher risk of early marriage due to a combination of economic shocks, school closures and interruptions in reproductive health services. Over the next decade, up to 10 million more girls will be at risk of child marriage as a result of the pandemic, in addition to the 100 million who were projected to become child brides before. Most child marriages due to the pandemic are expected to occur in the near term, though the impact is likely to be felt for at least the next decade.
---
The pandemic is adding to the burden of women's unpaid work while squeezing them out of the labour force
On an average day, women spend about 2.5 times as many hours on unpaid domestic work and care work as men, according to data from 90 countries and areas collected between 2001 and 2019. Both women and men have increased their unpaid workloads during the crisis, but women are doing a disproportionate share. Moreover, more women than men are leaving the workforce to provide childcare. In a 16-country study, the amount of time spent on childcare has increased for both women (from 26 hours a week before the pandemic to 31 hours after) and men (from 20 hours a week to 24 hours). Evidence from Brazil, Chile, Costa Rica and Mexico shows that partnered women with children have experienced sharper drops in labour force participation than men, particularly women living with children under 6 years of age.
---
Women's equal participation in decision-making, crucial for COVID 19 response and recovery, remains a distant target
The pandemic has exacerbated gender inequalities and threatens to undermine progress on women's empowerment. More than ever, women are needed as equal partners in crafting gender-responsive laws, policies and budgets to build back better and ensure a gender transformative agenda in both private and public spheres. However, as of 1 January 2021, women's representation was far from parity: the global average of women in single or lower chambers of national parliaments was only 25.6 per cent, and 36.3 per cent in local deliberative bodies, continuing a slow upward trend. At the current rate, it will take no fewer than 40 years to achieve gender parity in national parliaments. Only 23 countries have at least 40 per cent female representation in their lower or single chambers of parliament; 22 countries in local government. Most achieved such progress through the use of gender quotas. In 2020, the share of parliamentary seats won by women in countries with legislated quotas was 27.4 per cent, compared with 15.6 per cent in countries with no quota systems. At the local level, use of legislated quotas increased a country's representation of women by 7 percentage points.
Though women accounted for nearly 39 per cent of the global labour force in 2019, they occupied only 28.2 per cent of managerial positions, only 3 percentage points higher than in 2000. The pandemic's disproportional impact on women in the workforce, and especially on women entrepreneurs, threatens to roll back the little progress that has been made in reducing the global gender gap in managerial positions.
Proportion of seats held by women in parliament and local goverments, 2000 and 2021 (percentage)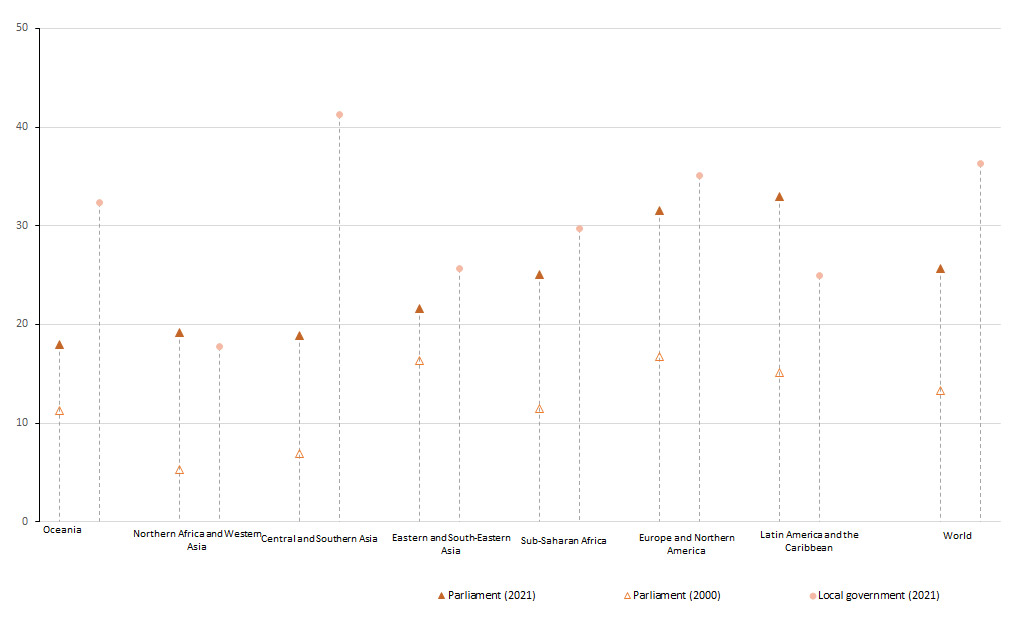 ---
Discriminatory laws and legal gaps continue to deprive women of their human rights
Discriminatory laws and legal gaps continue to prevent women from enjoying their full human rights, based on data collected in 95 countries across four areas of law in 2020. In the area of overarching legal frameworks and public life, more than half of the countries with data lacked quotas for women in national parliaments, and close to one fifth maintained discriminatory nationality laws. In the area of violence against women, 83 per cent of countries included budgetary commitments to implement legislation addressing violence against women, but 63 per cent lacked rape laws based on the principle of consent. In the area of employment and economic benefits, over 90 per cent of countries mandated non-discrimination on the basis of gender in employment, but almost half of them continued to restrict women from working in certain jobs or industries. In the area of marriage and family, almost a quarter of countries failed to grant women equal rights with men to enter into marriage and initiate divorce, and three quarters of countries did not stipulate 18 years as the minimum age of marriage for women and men, with no exceptions.
---
Giving women equal access to land would go a long way towards alleviating poverty and food insecurity
Women's ownership or control of land is critical to their economic empowerment. Land ownership gives rise to a host of benefits for women through an increase in their bargaining power within households and the economy. These benefits are not limited to women. Studies suggest that if women had equal access to land, poverty and food insecurity would be significantly reduced around the world.
That vision is far from realized. In most countries, less than 50 per cent of women and men engaged in agriculture have ownership or secure tenure rights over agricultural land. In 9 of the 10 countries assessed, relatively few women have such rights compared to men. It is not always the case that landowners who are men outnumber landowners who are women, but this is by far the most common situation, found in 7 out of the 10 countries for which data are available. In five of these countries, men outnumber women in land ownership by at least two to one.
Share of women and men in the adult agricultural population with ownership or secure rights over agricultural land, selected countries (percentage)
---
---