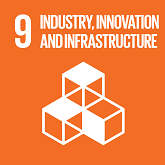 Build resilient infrastructure, promote inclusive and sustainable industrialization and foster innovation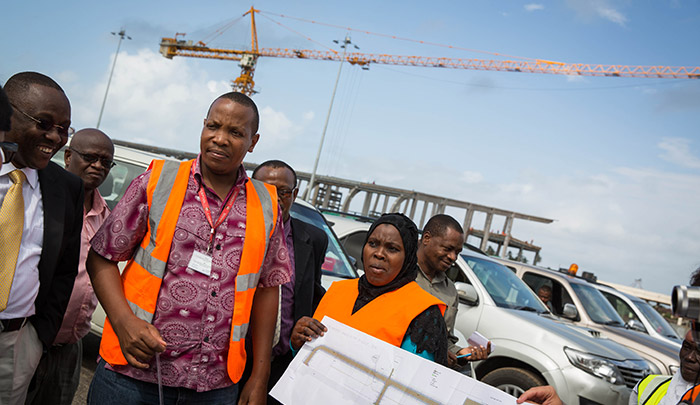 © The World Bank/Rob Beechey
Promoting inclusive and sustainable industries and continuing to invest in physical infrastructure, innovation and research are vital to long-term economic development. Investment in research and development (R&D) globally, and financing for economic infrastructure in developing countries has increased. What's more, the intensity of global CO2 emissions has declined, and impressive progress has been made in mobile connectivity. However, the growth of manufacturing has decelerated and industrialization in LDCs is still too slow. The pandemic has dealt a severe blow to manufacturing and transport industries, causing disruptions in global value chains and the supply of products as well as job losses and declining work hours in these sectors. In developing countries, manufacturing jobs are an essential source of income and are key to poverty reduction. The effects of COVID-19 have been so destabilizing that they threaten to halt or even reverse progress towards SDG 9 and other Goals.
---
The aviation industry, a driver of economic development, has likely suffered the steepest decline in its history
Air transport is a driver of economic development. In 2016, the direct and indirect global economic impact of air transport was estimated at $2.7 trillion, which is equivalent to 3.6 per cent of the world's GDP. The COVID-19 outbreak has hit the aviation industry hard. By April 2020, strict travel restrictions by governments and concerns among travelers had led to the grounding of about 90 per cent of fleets, with travel demand dropping to near zero. In the first five months of 2020, passenger numbers plunged by 51.1 per cent compared with the same period in 2019. According to 5 June 2020 estimates from the International Civil Aviation Organization, the pandemic may cause an overall reduction of 2.29 billion to 3.06 billion passengers in 2020, resulting in losses of between $302 billion and $400 billion in gross operating revenues for airlines compared with business-as-usual operations. A safe and sustainable recovery of the aviation industry, which will also accelerate recovery in other sectors including tourism and trade, will require a coordinated global effort.
Air seat capacity and number of air passengers, January 2019 to May 2020 (millions)
---
Already slow manufacturing growth has plummeted as a result of the pandemic
Global manufacturing growth decelerated in 2018 and continued to decline in 2019 due to tariffs and trade tensions between the world's most dominant economies. The slowdown affected all regions and country groups. In LDCs, the share of manufacturing in GDP increased from 10.0 per cent in 2010 to 12.4 per cent in 2019. However, the rate of growth was too slow to reach the target of doubling industry's share in GDP by 2030. Moreover, manufacturing value added per capita in LDCs reached only $132 in 2019, lagging far behind Europe and Northern America, where it was $4,856.
Global manufacturing output growth saw a sharp decline of 6.0 per cent in the first quarter of 2020 due to economic lockdown measures. China, the world's largest manufacturer, was walloped by COVID-19 in the first quarter of the year, registering an unprecedented drop of 14.1 per cent in manufacturing output. Since manufacturing is considered an engine of overall economic growth, the global slump in manufacturing production has had serious impacts on the global economy.
Quarterly growth rate of manufacturing output compared to the same quarter the previous year, fourth quarter of 2018 to the first quarter of 2020 (percentage)
---
Better access to financial services for small-scale industries is urgently needed to resuscitate the global economy
Small-scale industrial enterprises are major sources of employment in developing and emerging economies. They are central to income-generation and the alleviation of poverty and will play a crucial role in the recovery of the global economy post-COVID-19. However, they are vulnerable due to their small size and limited resources. They do not have the capacity to deal with unexpected shocks, such as the current crisis, without help from governments.
Access to credit is particularly important to small-scale firms for increasing their competitiveness and enabling them to integrate into local and global value chains. In developing countries, 34.7 per cent of small-scale industries (manufacturing and services) benefit from loans or lines of credit. However, only 22.9 per cent of small-scale industries in sub-Saharan Africa received loans or lines of credit, compared with almost half in Latin America and the Caribbean, according to recent data. Providing fiscal stimulus and access to financial services in support of small- and medium-sized enterprises is essential to enabling them to survive and thrive during and after the crisis.
Proportion of small-scale manufacturing enterprises with a loan or line of credit, according to surveys conducted in 2006–2018 (percentage)
---
Despite progress in recent years, investments in research and development need to accelerate, in part to cope with COVID-19
Globally, R&D has continued to grow at a brisk pace, reaching $2.2 trillion (purchasing power parity) in 2017, up from $1.4 trillion in 2010 and 741 billion in 2000. While Europe and Northern America leads in R&D, representing 47.6 per cent of global investments in 2017, Eastern and South-Eastern Asia is quickly catching up, increasing its share in R&D investment from 22.6 per cent in 2000 to 40.4 per cent in 2017. In relative terms, the proportion of global GDP invested in R&D increased from 1.62 per cent in 2010 to 1.72 per cent in 2017. Yet regional disparities are extreme, ranging from 2.25 per cent in Europe and Northern America to 0.38 per cent in sub-Saharan Africa. For LDCs and landlocked developing countries, the proportion was around 0.20 per cent.
The importance of increased investment in R&D, perhaps at a faster rate, has been highlighted by COVID-19. More investment is needed in the pharmaceutical industry and in emerging technologies such as artificial intelligence, which can assist in developing drugs and vaccines and in managing related services and resources.
Research and development expenditure as a proportion of GDP, 2010 and 2017 (percentage)
Note: Data coverage for Oceania was not sufficient to calculate a regional aggregate.
---
Mobile connections are practically universal, but about half the global population are offline, mostly in LDCs
With COVID-19 forcing many to work, learn, seek health care and socialize from home, digital technologies and Internet connectivity have never been more a part of our daily lives. To access the Internet, mobile connections provide flexibility, particularly in places where fixed-broadband service is unavailable or unaffordable. Coverage of mobile access has expanded rapidly. In 2019, almost the entire world population (97 per cent) lived within reach of a mobile cellular signal, and 93 per cent lived within reach of a mobile-broadband signal. Least developed countries have seen significant growth in coverage of mobile-broadband signals, from 51 per cent in 2015 to 79 per cent in 2019. However, just 54 per cent of the global population actually use the Internet. Most of the offline population live in LDCs, where only 19 per cent use the Internet, compared with 87 per cent in developed countries. Key reasons for this large gap are the cost of using the Internet and the lack of necessary skills.
Proportion of population covered by a mobile-broadband signal and using the Internet, 2019 estimates (percentage)
---