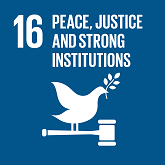 Promote peaceful and inclusive societies for sustainable development, provide access to justice for all and build effective, accountable and inclusive institutions at all levels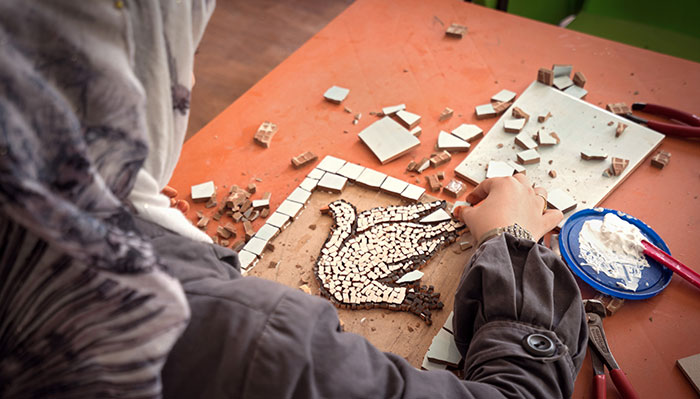 © UN Women/Christopher Herwig
Realizing the goal of peaceful, just and inclusive societies is still a long way off. In recent years, no substantial advances have been made towards ending violence, promoting the rule of law, strengthening institutions at all levels, or increasing access to justice. Millions of people have been deprived of their security, rights and opportunities, while attacks on human rights activists and journalists are holding back development. More countries are ramping up efforts to uncover human rights abuses and designing laws and regulations that foster more open and just societies. But much more work is needed to ensure that these mechanisms are implemented properly. Conflict and other forms of violence are an affront to sustainable development. In 2018, the number of people fleeing war, persecution and conflict exceeded 70 million, the highest level that the United Nations High Commissioner for Refugees has seen in almost 70 years. All are particularly vulnerable to various forms of abuse, including trafficking, violence and non-inclusive decision-making. Ensuring that they receive adequate protection is paramount to achieving the goal of inclusive societies and sustainable development.
---
Young men are at higher risk of murder overall, while most victims of intimate partner homicide are women
The global homicide rate was roughly stable at around 6 per 100,000 people over the 2007–2017 decade, with the highest rates observed in Latin America and the Caribbean. The number of homicide victims increased by 11 per cent, from 419,000 in 2000 to 464,000 in 2017. Over that period, lethal violence was increasingly concentrated in two regions: Latin America and the Caribbean accounted for 34 per cent of global homicides in 2017 (compared to 27 per cent in 2000), and the share in sub-Saharan Africa grew from 25 to 33 per cent.
Men made up around 80 per cent of homicide victims overall, but women constituted the majority (64 per cent) of murder victims in cases of intimate partner/family-related homicide. For intimate partner homicides only, the share of female victims was even higher at 82 per cent. Young men 15 to 29 years old faced the highest homicide risk overall with some regional variations.
Victims of homicide, by sex, 2017 (percentage)
---
The majority of trafficking victims are taken for sexual exploitation and forced labour
In recent years, a growing number of trafficking victims have been detected in countries around the world: from an average of 150 detected victims per country in 2010 to 254 in 2016. The number of reporting countries remained roughly the same (93 in 2010 compared to 97 in 2016). The increase in the average number of detected victims per country may be a sign of stepped-up efforts by authorities to identify victims; alternatively, it could reflect a growing trafficking problem. Contrary to findings from earlier years, most trafficking victims are now detected domestically.
In 2016, adult women comprised nearly half of the detected victims globally, and girls accounted for about 23 per cent. The majority of victims were trafficked for sexual exploitation (about 59 per cent), and more than a third were trafficked for forced labour. Victim profiles were different depending on the form of exploitation. While 83 per cent of the female victims in 2016 were trafficked for sexual exploitation, 82 per cent of the males were trafficked for forced labour.
Forms of exploitation among detected trafficking victims, 2016 or latest year (percentage)
---
Birth registration is a human right, yet less than three quarters of children under 5 years of age worldwide are registered
Birth registration is fundamental to helping people access their individual rights, such as basic social services and legal justice. Yet, less than three quarters (73 per cent) of children under 5 years of age worldwide have had their births registered, according to data from 161 countries over the period 2010 to 2018. Many countries and regions have reached universal or near universal coverage, but in sub-Saharan Africa, fewer than half (46 per cent) of all children under 5 years of age are registered. Central and Southern Asia and South-Eastern Asia also lag behind at 68 per cent and 82 per cent, respectively. Much work has been done recently to improve civil registration systems and to raise awareness among citizens, but continued efforts are needed to ensure that all children can claim their right to an identity.
Proportion of children under 5 years whose births have been registered with a civil authority, latest data from 2010 to 2018 (percentage)
Note: Based on 161 countries with global population coverage of 84 per cent. The number of countries with available data is in parentheses. Data for Eastern Asia are not shown due to low population coverage.
---
Murder rates among human rights defenders, journalists and trade unionists are rising
From 1 January to 31 October 2018, the United Nations recorded and verified 397 killings of human rights defenders, journalists and trade unionists in 41 countries. Every week, an average of nine people were murdered on the front lines of efforts to build more inclusive and equal societies—a disturbing increase from the average of one victim per day from 2015 to 2017.
One in two victims had been working with communities on issues involving land, the environment, poverty, the rights of minorities and indigenous peoples, or the impact of business activities. And, overall, every tenth victim was a woman. Journalists and bloggers constituted one quarter of the total number of victims killed, and most of these murders occurred outside of countries experiencing conflict.
Unless Member States live up to their international obligation to protect those who stand up for the fundamental rights and freedoms of others, human rights defenders, journalists and trade unionists will continue to be targets of assassination in countries around the world.
Number of cases of killings of human rights defenders, journalists and trade unionists, by sex, 2015¬2018
† Includes only incidents that occurred from 1 January to 31 October 2018. The figure does not include data on cases of kidnapping, forced disappearance, arbitrary detention or torture.
---
More countries are establishing legal and institutional frameworks for the defence of human rights, but the pace of progress is slow
Binding laws and policies giving individuals the right to access information held by public authorities have been adopted by 125 countries, with at least 31 countries adopting such laws since 2013. Expert assessments, however, suggest that in many cases, the legal framework could be improved. Among the 123 countries for which data on legal frameworks are available, 40 countries do not have adequate provisions on the right to appeal to an independent administrative body, which is considered key for the proper implementation of this right.
The pace of progress in establishing national human rights institutions (NHRIs) that are in compliance with the principles relating to the status of national institutions (the Paris Principles) must be accelerated. In 2018, only 39 per cent of all countries had successfully achieved compliance; an increase of 3 per cent (7 countries) from 2015. If growth continues at the same rate, by 2030 only around half of all countries will have compliant NHRIs to ensure that States deliver on their human rights obligations.
Proportion of countries with human rights institutions that have applied for accreditation, and proportion that are in compliance with the Paris Principles, 2018 (percentage)
* Excluding Australia and New Zealand.
---