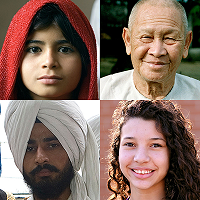 On the surface, we are making remarkable progress towards ensuring quality education for all. In 2010, 63 per cent of children of adequate age were receiving early childhood or primary education. By 2016, that proportion grew to 70 per cent, meaning that millions more children were now going to school. But beneath these positive developments, better data helped to reveal a global learning crisis.
A 2017 study by the UNESCO Institute for Statistics found that 617 million children and adolescents – six out of every 10 – are not reaching minimum proficiency levels in reading and mathematics. This means that more than a half – 56 per cent – of all children would not achieve minimum proficiency levels by the time they should be completing primary education.
What is even more worrying, roughly two thirds of the 617 million children who are not learning enough, are attending school. This data made it clear to the world that getting children to school is only half the battle. The other challenge is to ensure that every child in the classroom receives the basic skills they need to thrive and develop.
"Far from being hidden away or hard to reach, these children are sitting in classrooms, waiting for schools to deliver the quality education they have been promised," said Silvia Montoya, Director of the UNESCO Institute for Statistics. "That promise has been broken far too often."
The global learning crisis has been revealed thanks to better data and it is with better data that we should start fixing it. Today, 80 per cent of countries assess the quality of learning, but the results they produce cannot be compared. Better tools are needed to monitor and improve learning worldwide and ensure that no one is left behind.
Better data can also tell us who benefits from quality education and who misses out. For example, in some countries like Cameroon, Ethiopia, Guinea, Haiti, Liberia, Madagascar, Malawi, Mauritania, Nigeria and South Sudan, three out of four children from rich families complete primary education, while the same is true for only one out of every four poor children.
Better data can help governments allocate resources in a more equitable way, giving all children a fair shot at obtaining education, regardless of how wealthy or poor their parents are.
Better data makes our lives better in countless ways. As the UN Statistical Commission prepares to hold its 50th session this March, we highlight the stories that show how data can improve, and sometimes even save the lives of people . Discover the power of data!
For more information on the UN Statistical Commission, visit: https://unstats.un.org/unsd/statcom/50th-session
---