Voorburg Group on Service Statistics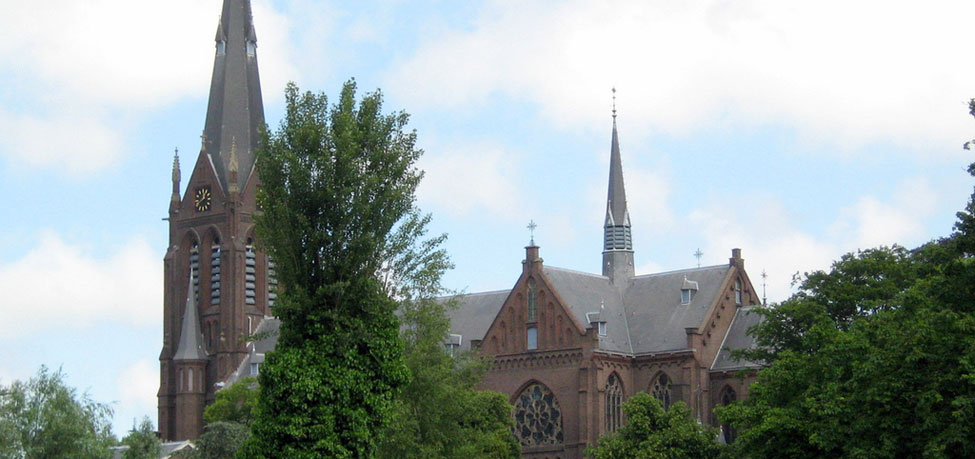 Photo Attribution: "
Voorburg, Martinuskerk
" by
ekenitr
- Licensed under
CC BY-NC 2.0
Purpose and Brief History
For 33 years, representatives from national statistical agencies have met annually to address selected problems in statistical methods. The Voorburg Group derives its name from the city in Netherlands where it first met in 1987. The experience with the Voorburg Group has shown that the international community can benefit greatly from such a process. These informal consultative groups are an innovative way to use country resources to improve and speed up the international standards development process.
The mission of the Voorburg Group on Services Statistics is to establish and maintain an internationally comparable methodology for measuring output and producer price indexes for the service industries. We focus on the development of concepts and methods, the sharing of best practices, and identification of classification needs. The Voorburg Group has contributed over the years to building up and sharing a considerable and growing body of knowledge of Service Sector Statistics. It has prompted international cooperation in the development of standards and has assisted in resolving statistical and measurement challenges in the Service Sector.
Enquiries relating to the Voorburg Group should be addressed to the Group's co-chairs:
Bonnie Murphy
United States Bureau of Labor Statistics
E-mail : Murphy.bonnie@bls.gov
Telephone: (+1) 202-691-7689
Marcus Friden
Statistics Sweden
E-mail : Marcus.Friden@scb.se
Telephone: (+46) 10-479-4319
The Voorburg Group's Strategic Plan 2017-2021 focuses on five major objectives:
- Updating its best practices to account for the rapidly changing economy and its impact on statistical measurement practices;
- Producing guidance papers on cross-cutting methodological issues;
- Providing a forum for information exchange on best practices and emerging issues through both formal meetings and
active collaboration throughout the year;

- Making VG documentation more accessible and up-to-date; and
- Enhancing the Group's understanding of the concepts and requirements of National Accounts in measurement of real output
&nbsp and productivity in the services industries.
The Group maintains a permanent website, currently hosted by Statistics Canada, on which all of the Group's outputs can be found. At this site you can search for all the papers presented at every meeting, view the agenda and participants for all meetings and get the latest Voorburg Group News.
The website includes three primary types of papers: mini-presentation papers, sector papers, and revisited sector papers.
The mini-presentation papers for prices, turnover, and classification present specific country's experience or practice on a given industry or part of an industry and are used to facilitate the discussion and exchange of knowledge and expertise.
The sector papers and revisited papers are the codification of the best practices in the development of prices, turnover, and classification for a given industry. Both the revisited papers and sector papers are considered as the "final" outcome of the Voorburg Group's development work for a particular sector. As industries and products change, the Group has updated previous sector papers so it is always good to consult the most recent version for a particular sector.
The Reference Documents tab on the website contains the Voorburg Group's Strategic Plan, the Content Development Framework that guides the development of Sector Papers as well as the development of new Guidance Papers on cross-cutting methodological issues, an updated Glossary, as well as international recommendations and manuals on national accounting and price measurement.
Bureau of the Voorburg Group
The organization and the planning of the annual meeting are done by the Bureau. The Bureau consists of a core group of members, the host of the last meeting and the host of the next meeting, as well as the Voorburg Group Secretary who is responsible for various logistical activities including taking notes at Bureau meetings, organizing Country Progress Reports, and providing logistical support for the Voorburg Group Co-Chairs.
As of October 2019 the members of the Bureau are:
Bonnie Murphy: U.S. Bureau of Labor Statistics (Co-Chair)
Marcus Friden: Statistics Sweden (Co-chair)
Dragos Ifrim: Statistics Canada (VG Secretary)
Erika Barrera: Central Bank of Chile
Ramon Bravo: INEGI, Mexico
Moegi Inoue: Bank of Japan
Yann Leurs: INSEE, France
Christian Puchter: Statistics Austria
Susanna Tag: Statistics Finland
Craig Taylor: Office of National Statistics, UK
Year organized
1986
Next meeting
The 35th meeting of the Voorburg Group on Service Statistics will be held virtually on Thursday September 24 and Friday September 25, 2020. The link to the meeting website and the agenda will be available in June 2020. For further information on the Voorburg Group, please contact the co-chairs:
&nbsp &nbsp &nbsp &nbsp Or
Another ambitious agenda has been proposed for the 2020 meeting. The meeting will include the presentation and adoption of the Sector Papers from the 2019 meeting in Paris covering both Advertising and Publishing Sectors. These papers were revisited to incorporate digital aspects. A paper summarizing issues in measurement of Short term accommodation activities will also be presented. There will be new mini-presentations for Warehousing and Storage, Renting and Leasing of Motor Vehicles, and Renting and Leasing of Other Machinery, Equipment and Tangible Goods.
The 2020 meeting will also include special sessions on cross-cutting topics, including Services Producer Price Index sampling methods and sources, transfer prices for services, effects of new technologies on industries measured by hourly charge-out rates, and international trade in services by mode. Papers on practical experiences in determining economic ownership, practical experiences in coordinating classification of participants in multi-national enterprises, and alternative data use in developing a Services Producer Price Index for air passenger and rail freight transportation will be presented.
A structured session containing four posters on best practices to evaluate fitness for use of alternative data is planned. In addition, the results of an electronic survey conducted in 2020 on update and revision practices in each country will be presented.
Previous meetings
The Voorburg Group meets for one week every year. The previous meetings were held as follows:
1987 Voorburg, the Netherlands
1987 Stockholm, Sweden
1988 Wiesbaden, Germany
1989 Ottawa, Canada
1990 Paris, France
1991 Helsinki, Finland
1992 Williamsburg, United States of America
1993 Oslo, Norway
1994 Sydney, Australia
1995 Voorburg, the Netherlands
1996 Newport, Wales
1997 Copenhagen, Denmark
1998 Rome, Italy
1999 Christchurch, New Zealand
2000 Madrid, Spain
2001 Ôrebro, Sweden
2002 Nantes, France
2003 Tokyo, Japan
2004 Ottawa, Canada
2005 Helsinki, Finland
2006 Wiesbaden, Germany
2007 Seoul, South Korea
2008 Aguascalientes, Mexico
2009 Oslo, Norway
2010 Vienna, Austria
2011 Newport, Wales, U.K.
2012 Warsaw, Poland
2013 Tokyo, Japan
2014 Dublin, Ireland
2015 Sydney, Australia
2016 Zagreb, Croatia
2017 New Delhi, India
2018 Rome, Italy
2019 Paris, France
Recent Meeting Topics
2014 Meeting
The 2014 Session included sector papers for the mini-presentations covered in 2013 as well as new mini-presentations for Specialized Design Activities, Leasing of Intellectual Property, Travel Agency Activities, Activities of Call Centers, and Human Health Activities.
2014 also saw cross-cutting topic discussions addressing the strengths and weaknesses of using CPIs to proxy SPPIs for various services, discussions of sectoring and price differences (e.g., B to E, B to C, and B to all), productivity in services, and electronic data collection experiences from participating countries. Finally, the new version of the OECD-Eurostat SPPI Guide was unveiled at this meeting; the new Guide became available on the OECD website in January 2015: http://www.oecd.org/std/prices-ppp/eurostat-oecd-methodological-guide-for-developing-producer-price-indices-for-services-9789264220676-en.htm.
2015 Meeting
The 2015 Meeting included presentation and approval of Sector Papers for Call Centres, Travel Agency Activities, and Specialized Design Activities and an Issues Paper on Leasing of Intellectual Property. There were new mini-presentations for Other Reservation Services and Related Activities, Veterinary Activities, Office and Administrative Support Activities, and Organisation of Conventions and Trade Shows.
2015 also saw cross-cutting topic discussions on issues and best practices concerning bundling of services, on the use of an industry vs. product framework for measurement of particular services, and the treatment of reselling of services. The Group also held its first structured poster session in which eight NSOs shared their experiences with either the use of administrative data or country challenges in developing SPPIs. Finally, the Group spent time discussing options for the future of the Voorburg Group, reviewing a paper written by the Group's leadership bureau and setting the stage for drafting of a new Strategic Plan.
2016 Meeting
The 2016 meeting included presentation and approval of Sector Papers for Organisation of Conventions and Trade Shows and for Veterinary Activities (the latter covering turnover/output only). The Group also considered a new Issues Paper for Office and Administrative Support Activities. The Group also considered two Guidance Papers on Bundling of Services and Industry vs. Product, following up on the cross-cutting topics discussed at the 2015 meeting. There were new mini-presentations for Activities Auxiliary to Financial Services, except insurance and pension funding, and for Motion Picture, Video and Television Programme Production, Sound Recording and Music Publishing.
2016 also saw cross-cutting topic session on the use of time-based methods and the challenge of productivity for SPPIs and on experiences in starting measurement of services. For the second year, the Group held another highly successful structured poster session in which four NSOs presented posters related to theme of initiating SPPIs or turnover/output statistics and five NSOs presented posters on the use of alternative data sources. Finally, a large part of this meeting was spent reviewing and approving the new VG Strategic Plan, which was formally presented to the membership at this meeting. Feedback was obtained and the Plan was revised during the meeting with the basic contents approved and the co-chairs authorized to update and finalize the Plan for posting on the VG website and sharing with the UNSC by the spring of 2017. Related to this effort was the presentation and discussion of a new Content Development Framework for use by the Group for the first time in preparation for the 2017 meeting.
2017 Meeting
The 2017 meeting included presentation and approval of the Sector Paper for Activities Auxiliary to Financial Service Activities, except Insurance and Pension Funding. The Revisited Sector Paper on Telecommunications was also discussed. Mini-presentations for Investment Banking and Engineering Services were also presented utilizing the new Content Development Framework.
The cross cutting topics in 2017 included e-commerce and globalization. An update on international work related to measuring the digital economy was presented as well as a presentation of work within OECD. There were also four additional presentations of country-specific issues and solutions in measurement of services stemming from the digital economy. For the globalization topic, OECD provided an overview presentation and a structured poster session was conducted in which three NSOs presented posters concerning practical issues related to globalization.
Five NSOs provided papers and posters in an additional structured poster session on the cross-cutting topic of Quality Indicators. Task forces that conducted their work in between meetings reported out on the completion of the official Voorburg website redesign and on the approach that the Voorburg Group will follow in developing the agenda and group input of ideas for the next meeting.
2018 Meeting
The 2018 meeting included a presentation from the IMF on the Status of Price Statistics Compilation in 196 Economies and a presentation from the UK Economic Statistics Centre of Excellence on Measuring the Real Output of Services Activities: An Audit of Services Producer Price Indexes.
The meeting included presentation and approval of the Sector Paper for Investment Banking and a Revisited Sector Paper on Telecommunications. In addition, issues papers were adopted for Motion Picture, Video and Television Production, Sound Recording and Music Publishing and E-commerce which included a presentation on measurement challenges of a digital economy. There were new mini-presentations for Data Processing, Hosting and Related Activities.
2018 also saw a cross-cutting topic session on Export of Services with three papers on output measurement and two papers on price measurement. Another cross-cutting topic session with the theme of intermediaries in the provision of services included a paper and presentation on Classification Principles, a presentation on Classification of Intermediary Services for Internet Platforms, and three papers including countries' practical experience and the challenges faced in output and price measurement. A third cross-cutting topic session included three presentations on Quality Adjustment in a Digital Economy. A presentation on Recent Developments in Wholesale Trade which included use of external data in some areas was also discussed.
This meeting also included a structured poster session in which four NSOs presented posters explaining Practical Aspects of Profiling and Collecting Data on Large Complex Enterprises.
A session on modern methods was added this year which included a demonstration of a Data Visualization Tool. The basic code used to develop this tool is open source and has the potential to be shared among countries. In addition, experience in establishing a deflator group was also presented.
2019 Meeting
The 2019 meeting focused on industry sectors that have new measurement challenges as a result of digitalization including digital advertising. There were new mini-presentations for three sectors including Publishing, Advertising, and Short Term Accommodation. A paper on pricing Web Portals and Internet Advertising commodities was also presented and discussed.
2019 included presentation and approval of the Sector Paper for Architectural and Engineering Activities and Related Technical Consultancy. Also approved were issues papers for Data Processing, Hosting and Related Activities, Intermediation in the Provision of Services, and Export of Services. Eurostat presented Framework Regulation Integrating Business Statistics (FRIBS) requirements for new short term indicators on services. The IMF gave a presentation on the plan to provide workshops and technical assistance missions on PPIs for services to low and middle income countries. A paper on Cost-efficient Approaches to Build ISPs was also presented.
2019 also saw a cross-cutting topic session on Services Producer Price Indexes by customer sector. A Modern Methods session included a demonstrations of a new deflator tool and a data visualization tool. This meeting saw a structured poster session in which four NSOs presented posters related to the use of non-tax and non-administrative alternative data.
Recent Participants
National institutes
Albania: National Institute of Statistics
Australia: Australian Bureau of Statistics
Austria: Statistics Austria
Bosnia and Herzegovina: Agency for Statistics
Brasil: FundaÇâo Getulio Vargas (FGV)
Canada: Statistics Canada
Chile: Central Bank of Chile
China: National Bureau of Statistics of China
Croatia : Central Bureau of Statistics
Czech Republic: Statistical Office of the Czech Republic
Estonia: Statistics Estonia
Fiji: Fiji Bureau of Statistics
Finland: Statistics Finland
France: Institut national de la statistique et des études économiques (INSEE)
Germany: Federal Statistical Office of Germany - Destatis
Hungary: Central Statistical Office
India: Ministry of Commerce and Industry Central Statistical Office-Economic Statistics Division, Department for Promotion of Industry and Internal Trade
Indonesia: Budan Pusat Statistik – Central Bureau of Statistics
Ireland: Central Statistics Office Ireland
Israel: Central Bureau of Statistics
Italy: Instituto Nazionale di Statistica
Japan: Japan Statistics Bureau; Bank of Japan
Korea (Republic of): Bank of Korea
Kosovo: Agency of Statistics
Latvia: Central Statistical Bureau of Latvia
Luxembourg: STATEC (National Institute of Statistics and Economic Studies of the Grand Duchy of Luxembourg)
Malaysia: Statistics Malaysia
Malta: National Statistics Office
Mexico: Instituto Nacional de Estadística y Geografía
Morocco: Haut Commissariat au Plan
Netherlands: Centraal Bureau voor de Statistiek
New Zealand: Statistics New Zealand
Norway: Statistics Norway
Poland: Central Statistics Office of Poland
Portugal: Instituto Nacional de Estatistica
Serbia: Statistical Office of the Republic of Serbia
Singapore: Department of Statistics
Slovenia: Statistical Office of Republic of Slovenia
Slovakia: Statistical Office of the Slovak Republic
Spain: Instituto Nacional de Estadistica
Switzerland: Office Federal de la Statistique
Sweden: Statistics Sweden
Thailand: National Statistical Office
Turkey: Turkstat
United Kingdom: Office of National Statistics
United States: Bureau of the Census, Bureau of Economic Analysis, Bureau of Labor Statistics
Vietnam: General Statistical Office
International organizations
Organization for Economic Cooperation and Development (OECD)
European Union: Statistical Office of the European Communities (Eurostat)
Secretariat of the Pacific Community
International Monetary Fund (IMF): Statistics Department
Reports to the United Nations Statistical Commission (UNSC)
Note: Best practice papers for most of the ISIC industries are available on the Voorburg website at https://voorburggroup.org/
Last updated 7 May 2020