The Energy Statistics Newsletter provides information on the activities and recent developments in energy statistics. It summarizes recent meetings and workshops and announces upcoming events in energy statistics. It also provides information on newly issued publications and technical materials and updates of the energy statistics database.

The Newsletter is published and disseminated by the United Nations Statistics Division.
To receive an e-mail notification when new issues of the Energy Statistics Newsletter are released, you can sign up for our Mailing List.
Issue 21/22 - June 2020

PDF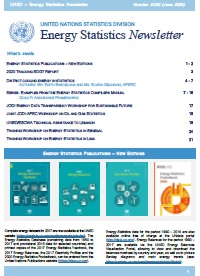 Issue 20 - January 2019

PDF
Issue 19 - June 2018

PDF
Issue 18 - December 2017

PDF
Issue 17 - June 2017

PDF
Issue 16 - March 2017

PDF
Issue 15 - September 2016

PDF
Issue 14 - September 2015

PDF
Issue 13 - July 2014

PDF
Issue 11/12 - December 2013

PDF
Issue 9/10 - October 2013

PDF
Issue 7/8 - December 2011

PDF
Issue 5/6 - August 2011

PDF
Issue 4 - December 2009

HTML
Issue 3 - November 2008

HTML
Issue 2 - March 2006

PDF
Issue 1 - August 2005

PDF