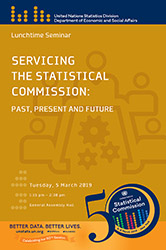 Servicing the Statistical Commission:
past, present and future
Tuesday, 5 MAR 2019
1:15 – 2:30 am
General Assembly Hall
Meeting organized by United Nations Statistics Division
Agenda



Chair:

Katherine Wallman



Welcoming Remarks:

William Seltzer



Speakers:

Hermann Habermann

Paul Cheung

Stefan Schweinfest


Webcast recording of the event
The Statistical Commission will hold its 50th Session since its inception in 1947. Time to look back... and forward!
What were the main accomplishments of the Statistical Commission in the past 72 years? What were the emerging topics and how has the Commission dealt with them? How has it changed over the years? Looking at the bigger picture, has the Statistical Commission always been able to support the ever expanding development concept with appropriate measurement systems? From a focus on economic development in the 1950s, incorporating increasingly social concerns in the 1970s and then environmental issues in the 1990s?
And what are the big challenges of our time? Is it harnessing the power of Information and Communication Technology effectively and responsibly? Or bringing a significantly enlarged data stakeholder community to the table? Or even communicating effectively with the many users and maintaining trust in official statistics?
The Director of the UN Statistics Division (UNSD) has the critical responsibility of servicing and shaping the Statistical Commission. This lunchtime event will offer the perspective of four directors of UNSD, covering the period from 1988 - 2019: Mr. William Seltzer, Mr. Hermann Habermann, Mr. Paul Cheung and Mr. Stefan Schweinfest. Together they have prepared 27 sessions of the UN Statistical Commission. They will share their views on successes (and frustrations...) of their respective time-periods and will also offer their perspectives on current and future challenges. The session will be moderated by Ms. Katherine Wallman, former US Chief Statistician (1993-2017) and Chair of the Statistical Commission sessions in 2004 and 2005.
This event will not only offer a journey through the recent history of the Statistical Commission over the past 30 years, but also an opportunity to celebrate the 25th Anniversary of one of the Statistical Commission's most widely recognized successes: The adoption of the Fundamental Principles of Official Statistics.
The audience is invited to actively participate, by either contributing their recollection of memorable moments of the Statistical Commission in the past and/or offering their views on the current and future challenges ... for the next 50 sessions.