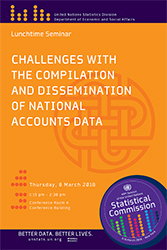 Challenges with the compilation and dissemination of national accounts data
Thursday, 8 MAR 2018
1:15 – 2:30 pm


Conference Room 4, General Assembly Building, UNHQ, New York
Organized by:
United Nations Statistics Division (UNSD)
National Accounts data are crucial for monitoring of economic policies at national level. Key indicators of national accounts such as gross domestic product (GDP), economic growth rate, national income or government deficit play a central role in the development and monitoring of economic policies, macro-economic forecasting, fiscal policy, analysis of structural reforms, etc.
At international level, Member States' national accounts data are the basis for the monitoring of global targets such as those of the 2030 Agenda for Sustainable Development. They are also used for the identification of most vulnerable Member States such as the Least Developed Countries (LDC) and the calculation of the contributions to the United Nations by Member States. Unfortunately, when data are not available from Member States, estimates have to be prepared in order to monitor and assess global targets.
Although incredible progress has been made by Member States in the regular compilation and dissemination of national accounts, there are still many Member States facing challenges in the compilation, dissemination of national accounts including the reporting of national accounts data to UNSD.
This side event is organized on the occasion of the 10-year anniversary of the 2008 SNA, to discuss the challenges in the compilation and dissemination of national accounts data by Member States with particular focus on the dissemination and reporting of national data to UNSD. The aim is to identify ways in which UNSD can more effectively provide assistance to Member States.
Programme




Chair:




Mr. Herman Smith,

Chief, National Accounts Section, UNSD




Importance of compiling, disseminating and reporting national accounts data from an international perspective -

Ilaria DiMatteo and Phyo Ba Kyu,

National Accounts Section, UNSD

Challenges from a National perspective




- Ms. Carol Coy, Director General,

Statistical Institute of Jamaica




- Mr. Camilo S. F. de Ceita,

Director General, Instituto Nacional de Estatística, Angola

National Accounts Implementation -

Michael Smedes,

National Accounts Inter Regional Advisor, UNSD




Panel discussion on the following questions:

What are the barriers to disseminate SNA data? What are the factors that prevent from responding to the UN NAQ? How can UNSD facilitate the reporting of SNA data?