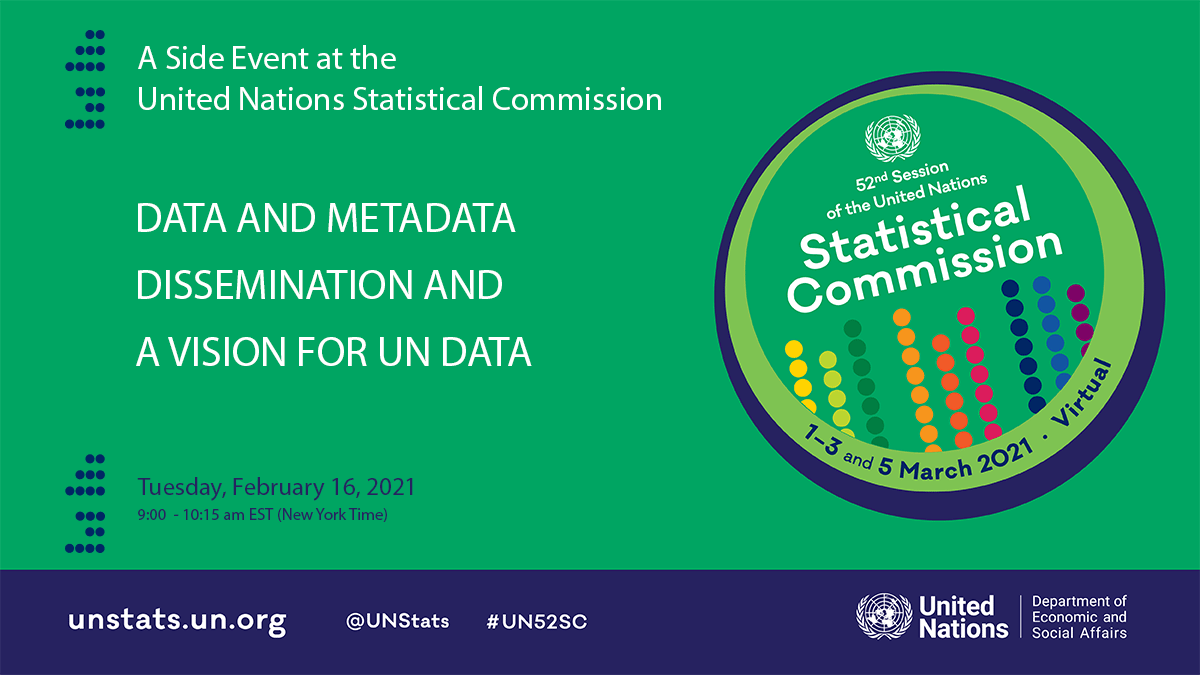 The side event will introduce and seeks to engage all stakeholders on a vision and proposal for a new UN data that builds on the existing portal and provides better access to available data, in line with the new UN Secretary-General's Data Strategy. A brief opening presentation will be followed by a conversation among stakeholders with the aim of setting the stage for further work and discussions. The side event is linked to the Commission's agenda item 3(m) Data and metadata presentation and dissemination1 and will provide an opportunity for an informal discussion.
Agenda

Moderator

Josh Powell,

Chief Executive Officer at Development Gateway

1. The vision for a new UN data

Context and case for a new UN data

Francesca Perucci,

UN Statistics Division

- Lara Blanco,

Executive Office of the Secretary-General

- Shaida Badiee,

Managing Director, Open Data Watch

- Pádraig Dalton,

Director General, Central Statistics Office of Ireland

2. The UN system's role in data communication: Lessons learned (perspectives from UN system, users and other partners)

- Sarah Telford,

Lead of the Centre for Humanitarian Data, United Nations Office for the Coordination of Humanitarian Affairs

- Melinda Cuzner,

Data expert and manager, IATI Manager, Swedish International Development Cooperation Agency

- Ashwell Jenneker,

Deputy Director General Statistical operations and Provincial coordination, Statistics South Africa

- Rolando Ocampo,

Director, UNECLAC Statistics Division

3. The way forward

Stefan Schweinfest,

Director, UN Statistics Division
Registration:
The event is open to all. Please use this link to register for the event:
https://forms.gle/8ytHdgp5voZNhQuk8
. The side event will be conducted virtually using WebEx. The link to the meeting will be shared with you a couple of days before the event. In case of questions please contact us at
chungh@un.org
.
---
1Report of the Secretary-General on data and metadata presentation and dissemination (E/CN.3/2020/3)
Upcoming session
Current session
Activities
Archive