Events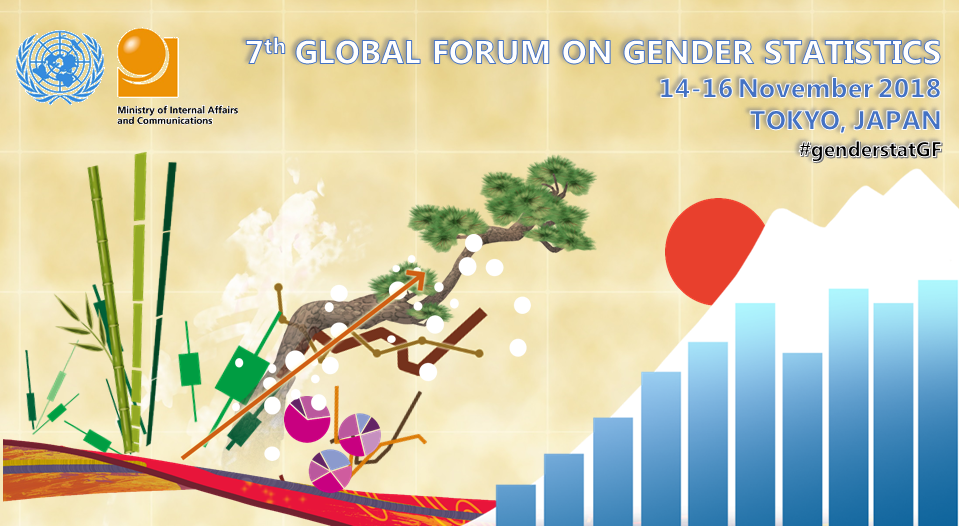 The United Nations Statistics Division (UNSD), in collaboration with the Ministry of Internal Affairs and Communications of the Government of Japan, is organizing the 7th Global Forum on Gender Statistics under the Global Gender Statistics Programme and the guidance of the Inter-Agency and Expert Group on Gender Statistics (IAEG-GS).
This event will bring together producers and users of gender statistics from national and international statistical offices, other government agencies, international organizations, academia, civil society and the donor community. The Forum will be an opportunity to discuss ways to improve data and evidence for gender policies, in the context of the 2030 Sustainable Development Agenda. In particular, the Forum will: (a) review methodological developments for better gender statistics in many areas, including the nexus between gender and environment; measuring asset ownership and entrepreneurship from a gender perspective; monitoring international migration; and producing data on gender identity; (b) take stock of national practices and strategies for measuring and monitoring gender concerns, in line with the global SDG indicator framework; (c) discuss how Statistical Offices can communicate more effectively to ensure policy makers, the media and the general public identify, understand, and make full use of available data; and (d) learn about the latest research/assessment of progress towards gender equality, and about the availability of disaggregated gender data, to ensure no one is left behind.
Main documents
Agenda
Wednesday, 14 November 2018
Time
Session
Moderator/Chair
Opening remarks
Tbd, Government of Japan , Japan
Mr. Stefan Schweinfest, Director, United Nations Statistics Division (in video)
Photo session and short break
Key note speaker
Ms. Yumiko Tanaka, Representative of Japan to the 62nd United Nations Commission on the Status of Women, Professor, Josai International University; JICA Senior Gender Advisor, Japan

Presentation
High level panel
Better use of data to achieve gender equality – how to communicate gender data effectively and close the user-producer information gap
Ms. Emily Courey Pryor (Data2X)
Lunch
Asakusa View Hotel, Shoun Room
Session 1: Women's economic empowerment - Measuring gender equality at work
Ms. Marjut Pietiläinen (Finland)
Session 2: Women's economic empowerment - Measuring gender equality in asset ownership and entrepreneurship
18:30 – (Registration opens at 18:00)
Reception hosted by Director-General, Statistics Bureau of Japan
Asakusa View Hotel, Shoun Room
Thursday, 15 November 2018
Time
Session
Moderator/Chair
Side Event: Addressing gender data challenges to monitor the SDGs: What have we learned after two years?
Asakusa View Hotel, Belvedere Room
Session 3: Women's double work burden - Measuring gender equality in unpaid work and use of time
Session 4: Gender, climate change and the environment
Ms. Ludgarde Coppens (UNEP)
Lunch
Asakusa View Hotel, Shoun Room
Session 5: Gender equality and human rights
Session 6: International migration and gender
Improving migration statistics – including from a gender perspective
Ms. Haoyi Chen, UNSD

Abstract Paper Presentation
Gender and migration: Integrating gender perspective into migration surveys in Morocco
Bouchra Bouziani, NSO, Morocco
Gender and migration: A statistical portrait on migration in Jordan from a gender perspective
Ms. Manal Sweidan, NSO, Jordan
Ms. Keiko Osaki-Tomita (Tokyo University of Foreign Studies)
Side Event: ADB-hosted cocktail reception at the 7th Global Forum on Gender Statistics
Asakusa View Hotel, Shoun Room
Friday, 16 November 2018
Time
Session
Moderator/Chair
Side Event: Measuring women's political participation using electoral administrative sources: The case of SDG indicator 5.5.1b
Asakusa View Hotel, Shoun I Room
Session 7: Non-traditional data sources and innovative methods to gather better evidence and « leave no one behind »
Ms. Francesca Grum (UNSD)
In Focus: Gender Statistics in Japan
Mr. Naoki Makita (Government of Japan)
Lunch
Asakusa View Hotel, Shoun Room
Session 8: Recent initiatives on gender statistics - filling the gender data gaps
Making Every Women and Girl Count
Mr. Papa Seck, UNWomen

Abstract Paper Presentation
Regional Commissions
Ms. Fatouma Sissoko, ECA

Abstract Paper Presentation
Strengthening national statistical capacities to provide the necessary sustainable development data
Mr. Ashish Kumar, Director, SIAP

Abstract Paper Presentation
Report of the IAEG-GS (Chair - Mr. Naoki Makita)


Abstract Paper Presentation
Ms. Linda Laura Sabbadini (ISTAT-Italy)
Conclusions and Closing remarks
Mr. Toshimitsu Miyake, Government of Japan, Japan
---
Previous forums