Methodology
Business Functions 2017 update
In connection with the 2017 Survey on Business Functions which was conducted in about a dozen EU member states, Eurostat hired consultant to assist in the construction of an international Classification of Business Functions. This classification will be reviewed by a Technical Sub-Group under the UN Expert Group on Classifications. Moreover, the classification of business functions will also be discussed by the newly establish UN Expert Group on Business Statistics. That group will have its first meeting in May 2018 in Mexico.
---
Development of SITC Rev.5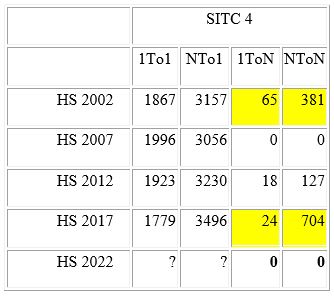 During the preparation of correlation tables (between HS 2017 and other classification), it was noted that the relations between HS 2017 and SITC 4 is rapidly deteriorating with increasing number of 1:N and N:N relationships (see table on the left).
Following established practice (ref: SITC 4), when the relationship between the latest edition of HS and latest revision of SITC is drifting too far apart, it is time to create a new revision of the SITC (SITC, Rev.5) which will be fully aligned to the 2022 edition of HS. The decision to align SITC 4 to HS 2007 was reached on similar grounds. Therefore, looking at high numbers of n-to-n correlations between HS2017 and SITC4, we intend to revise SITC 5 in accordance with HS 2022. The first step is to monitor closely the process of HS 2022 amendment by WCO Secretariat.
Related documents/links:
---
Events & Capacity Building
Regional Workshop on International Merchandise Trade Statistics
11-13 September, Suzhou, China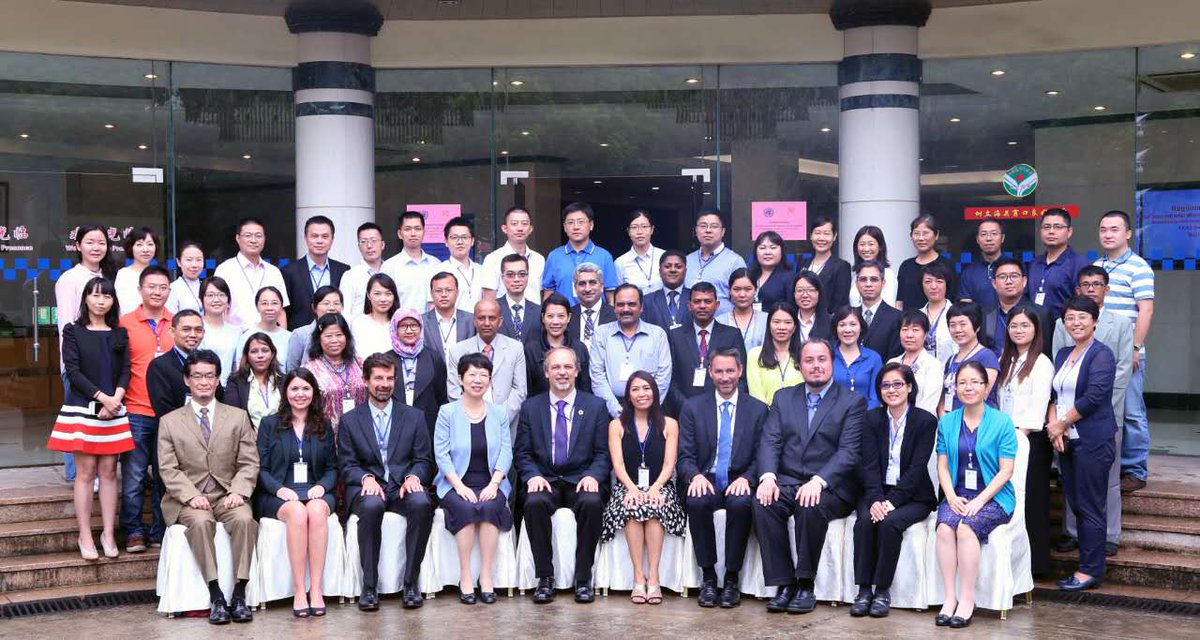 The UNSD's Trade Statistics Branch in collaboration with the General Administration of China Customs organized and conducted a three-day workshop in Suzhou in training facilities of China Customs, attended by20 international attendees from Asia and the Pacific and 40 national participants from all Chinese provinces. The Branch Chief led the workshop with assistance from resource persons from UNSD, WTO, WCO, ITC, UNCTAD, ASEAN, UNESCAP and IDE-JETRO. The participants discussed international recommendations forth compilation and reporting of international trade statistics and shared their country experiences in finding workable and effective solutions for institutional cooperation with national stakeholders – Customs, National Statistical Office (NSO) and Central Bank – for valuation issues, translation of administrative Customs records into international comparable trade statistics as well as upgrade of the IT systems for the processing of trade statistics. The coordinated release of trade figures from NSO and Central Bank was emphasized because methodological differences often lead to divergence of total trade figures from these two national agencies. Finally, merchandise trade statistics was placed in the broader context of measuring trade and economic globalization, especially measuring global value chains and trade in value-added.
For more information, visit the workshop website.
---
Pilot Project to Implement SDMX-IMTS in Mexico and Morocco
18-20 September 2017 and 16-18 October 2017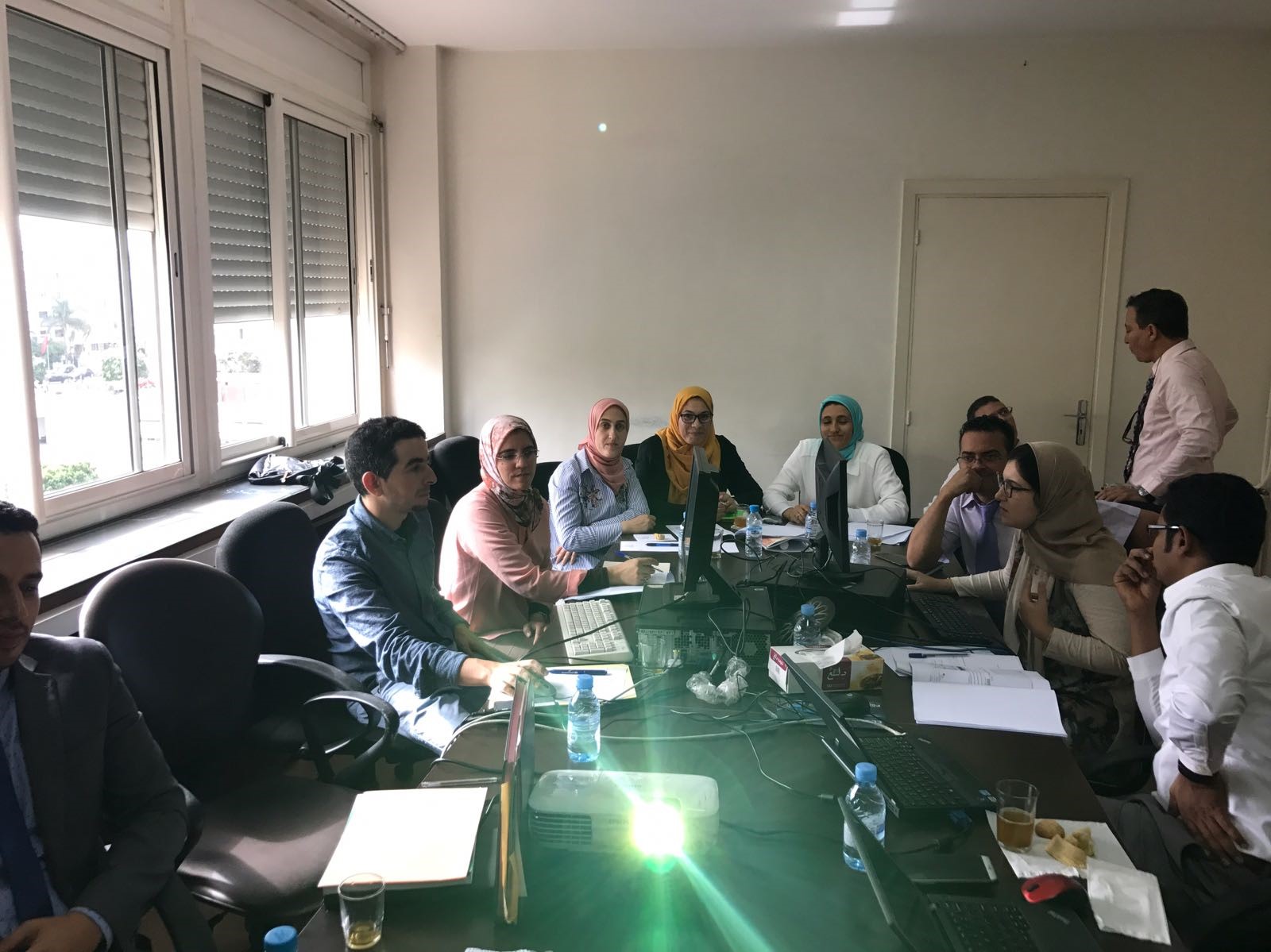 As part of DA10 (under Means of Implementation Pilar 1 A.2.3), UNSD conducted advisory SDMX mission to Mexico from 18-20 September 2017 and Morocco from 16 to 18 October 2017 at INEGI and Office des Changes (OC) Headquarters, respectively. The objectives of the mission are to conduct training workshop on SDMX-IMTS (both substantive and technical issues), to assist mapping between national trade database and data structure definition (DSD,) and to make recommendation on possible amendment of current DSD based on acquired experiences. The workshops were attended by around tens of staff consisting of trade statisticians and IT experts. At the end of the mission, the group could convert detailed trade data into SDMX format; and to establish direct link between national trade database and SDMX Mapping Assistant tool.
The results of these pilot projects were to be used as inputs to amend the current definition of SDMX-IMTS data structure definition (currently version 1.0). It is expected that in 2018 other pilot projects to be conducted considering lesson learnt from the previous pilot projects.
For more information, visit the SDMX-IMTS website.
---
4th International Conference on Big Data for Official Statistics and side events
Bogota, Colombia, 6 to 10 November 2017
The 4th Global Conference on Big Data for Official Statistics was held in Bogota on 8-10 November 2017. It was attended by about 280 statisticians, data scientists and IT specialists from around the world. The conference was organized by the Global Working Group (GWG) on Big Data and UNSD as the secretariat of the GWG in close cooperation with DANE, the national statistical office of Colombia. The programme was organized according to the overarching theme "trusted data collaboratives" starting from the need for innovation of the statistical systems linking to the increased demands for data to monitor progress on the 2030 Agenda.
A part of the programme was dedicated to emerging initiatives on smart city data, national data centers and data collaboratives for monitoring of the SDGs and specific applications of the use of earth observations, scanner data, social media data and mobile phone data. The latter was based on the work of the task teams of the GWG, which also formed the basis of four training workshops that were before the conference on 6-7 November. Also, back to back with the Conference, the GWG on Big Data organized its 4th annual meeting in Bogota on7 November. The 40 participants in this meeting consisted of senior managers in their organizations representing 20 countries, 10 international organizations and a few NGOs and private sector institutes. The main items on the agenda were the progress reports of the task teams, the global platform and the Bogota Declaration. This declaration proposes essentially to provide a major thrust for the strategic area of the Cape Town action plan on modernization of official statistics by advancing global data collaboratives, in the discovery, access and use of data (including big data), statistical methodology, software applications and capacity building to produce statistics and indicators.
For more information, visit the Sconference website.
---
Coordination
ISI 61st World Statistics Congress
Marrakech, Morocco, 16-21 July 2017
The International Statistical Institute (ISI) organised the 61st World Statistics Congress in Marrakech, Morocco under the high patronage of His Majesty King Mohammed VI of Morocco. The Congress featured a rich scientific programme focusing on the latest knowledge and innovation in statistics. It also provided an excellent opportunity to benefit from additional scientific activities such as satellite meetings and short courses. The United Nations Statistics Division (UNSD) was represented by 7 staff members who attended various sessions, chaired panel discussions and presented the UNSD's work as well as obtained training.
Session on Statistical Business Registers (SBR)
This session was chaired by the Director of the Statistics Division of the UNECA and presented regional perspectives on the topic by the African Development Bank, the Asian Development Bank and Eurostat, as well as the global perspective by UNSD, represented by the Chief of the Trade Statistics Branch. SBRs form the backbone to high quality integrated economic statistics. It is not only used for drawing samples for surveys, but also for business demographics and for integration of all kinds of economic data sources. In Africa, SBRs have been improved in Mauritius and in Ethiopia by which software tools were developed which can be deployed in additional countries. In Asia, projects are ongoing in Bhutan, Cambodia, Laos, Malaysia and Sri Lanka. In Europe, new regulations are being put in place for Business Statistics including SBRs. At the global level, UNSD will organize the process to make the UNECE guidelines on SBRs into UN guidelines for adoption by the Statistical Commission.
Session on Global Value Chain measurement in developing countries
Costa Rica, Morocco and Vietnam were represented in this session showcasing their work on compiling integrated business statistics, which are useful for analyzing the developments in the national economy and its relation to the global value chains, respectively in the medical devices, automotive and apparel GVCs. The Center on Governance, Globalization and Competitiveness of Duke University participate to explain the theory around these value chains and possibilities for upgrading, especially for developing countries. This session was organized and chaired by UNSD's Chief of Trade Statistics Branch.
For more information, visit the ISI website.
---
3rd Capacity Building Workshop on Measurement of APEC Trade in Value Added (TiVA)
Nanning, China, 7-10 August 2017
The Chief of IMTS Section of UNSD participated as a resource person in the 3rd APEC TiVA Capacity Building Workshop from 7 to 10 August 2017 in Nanning, China. In 2014, the Ministers of Economy of APEC endorsed an Action Plan, which included effective measurement of Trade in Value Added (TiVA) across2APEC economies. Since then, several capacity building workshops have been conducted focusing on compilation issues related to trade statistics, economic statistics and supply and use tables. UNSD contributed with a presentation on the new Classification by Broad Economic Categories, Revision 5, which focused on identifying end-use of imported goods into an economy and understanding the interconnectedness of economies in Global Value Chains. The workshop was attended by around 70 officials from statistical offices and academia of the APEC economies and 10 experts from international organisations. It is expected that the first version of APEC TiVA would be released in 2018.
---
The 3rd African Meeting of the Specialized Technical Group on External Sector (STGES)
19-22 September 2017 in Abidjan, Côte d'Ivoire
The Chief of International Merchandise Trade Statistics Section participated in the meeting of Specialized Technical Group on External Sector from 19 to 22 September 2017 in Abidjan, Côte d'Ivoire as a resource person. The meeting was attended by around 60 statisticians and customs officers from African countries, African Regional Economic Commissions, including UNECA, and UNSD. The main objective of this meeting was to further harmonise trade data collection and compilation at continental level, managed by the African Union Commission.
---
UNSD Brown Bag Seminar: China Customs, global enterprises and merchandise trade-related services
, New York, 21 September 2017
The Chief of the Trade Statistics Branch gave a presentation on "China Customs, global enterprises and merchandise trade-related services" on 21 September for division staff. Based on a recent mission, he shared that China Customs, as the agency responsible for compiling and disseminating trade statistics, is getting involved in new topics such as e-commerce; exhibition, testing and R&D services in free trade zones; investments and transportation services in 'Deep Water Ports'; and collaboration with multi-national companies.
---
Expert Meeting on Business Registers
Paris, France, 27-29 September 2017
UNECE together with Eurostat and OECD organized a 3-day expert meeting on Business Registers that was attended by over 100 experts from 62 countries, including several developing countries. The meeting discussed business demography, entrepreneurship statistics, the role of business registers in modernization of official statistics, geo-coding of businesses, increased use of administrative data and globalization issues related to business statistics. UNSD reported on the creation of a new UN expert group on Business Statistics, which was mandated by the Statistical Commission to develop UN guidelines for statistical business registers, to provide guidance on business statistics, and to promote and coordinate capacity building in this area of work. The experts in this meeting expressed broad support for the work of the newly created UN group.
---
Meetings of Inter-agency Task Force on International Trade Statistics & Expert Group on Measuring Digital Trade
10-12 October 2017, Paris, France
The Chief of IMTS Section of UNSD attended inter-agency Task Force on International Trade Statistics (TFITS) which took place on from 10 to 11 October 2017 at the OECD offices in Paris. This annual TFITS meeting discussed various forward-looking research agenda and coordination of technical assistances in areas of international trade statistics in goods and services; and global value chain. It was followed by TFITS Expert Group Meeting on Measuring Digital Trade (11-12 October 2017) which aims to bring together national experts and representatives of international organisations to develop and refine the draft measurement framework for Digital Trade, and to outline the next steps towards improved identification and measurement. Both meetings were attended by around 25 experts from international organisations and countries.
---
Expert Meeting on Trade in Services Statistics by Modes of Supply
Geneva, Switzerland, 19-20 October 2017
This expert meeting was organized and hosted by the World Trade Organization (WTO) and was attended by approx. 20 experts. For negotiations on trade in services details of the delivery of the services (so-called modes of supply) by individual service categories is required by the General Agreement on Trade in Services(GATS). However, data availability in countries is limited. At this meeting methods were reviewed with a goal of making practical recommendations. Among others, commercial presence of foreign owned service companies was discussed with respect to developing a database on multinational enterprises and their foreign affiliates, country case studies and plans how to disseminate the dataset by modes of supply. WTO will report the findings to the Task Force on International Trade Statistics and plans to make a first draft on a suggested methodological recommendation during 2018. The Chief of Statistics of International Trade in Services Section represented UNSD at the meeting.
---
Cloud for Development Workshop (C4D)
13-15 November 2017, St. Lucia
The Chief of IMTS Section of UNSD attended joint World Bank and OECS workshop on Cloud for Development which took place on from 13 to 15 November 2017 in St Lucia as resource person. The project C4D aims to deploy AWS (Amazon Cloud) in Caribbean region for storing, analysing and sharing statistical data. Eurotrace, trade data processing system, is considered as one of tools to be part of Cloud for Development tool belt for National Statistical Offices. The workshop is attended by 50 statisticians and IT experts from Caribbean countries, Statistics Canada, World Bank and Amazon AWS.
---
National Workshop on International Trade in Services
19 November 2017, Dubai, UAE
This Workshop on International Trade in Services was organized by the Federal Competitiveness and Statistics Authority of the UAE (FCSA), WTO, UN-ESCWA and was supported by UNSD. All relevant national government offices participated in the workshop. The workshop provided an overview of the progress made by the FCSA and discussed in detail existing challenges in the compilation of trade in services statistics, such as financial services, travel, tourism satellite account, and foreign affiliates statistics. Recommendations were made for UAE to move forward with producing more details of the underlying service items.
---
Arab Monetary Fund - WTO Workshop on the Compilation of Trade in Services Statistics in cooperation with UNSD an UN-ESCWA
20-23 November 2017, Abu Dhabi, UAE
The workshop was a follow-up event to a workshop, which was conducted two years ago. It reviewed the improved availability of service trade data in Arab countries. Approximately 50 participants from 16 countries participated in the workshop. They had completed an e-learning course on trade in services statistics before the start of the workshop. Selected service items of the Extended Balance of Payments Services Classification (EBOPS) were discussed, such as transport, travel and tourism satellite account, manufacturing services, computer services, construction services, foreign affiliates statistics/FDI. Parts of the workshop were organized as round table discussions.
---
Regional Technical Training on Statistical Business Register (SBR)
Brunei, 20-25 November 2017
A UNSD staff contributed as resource person to the regional technical training on Statistical Business Registers (SBR) organized by Asian Development Bank (ADB) with the objective of training statisticians, responsible for economic survey frame development and national accounts, and IT experts in using the newly developed ADB-SBR system. The meeting was in line with the objectives of the UN Expert Group on Business Statistics with respect to the development of methodological and compilation guidelines related to SBR. The training was conducted by ADB, ESCAP and UNSD and was attended by 50 statisticians and IT experts from Bhutan, Brunei, Cambodia, Lao PDR, Malaysia, Myanmar and Sri Lanka.
---
International workshop on tourism statistics organized by the National Bureau of Statistics (NBS) of China
Chengdu, China, 23-24 November 2017
The workshop was organized by National Bureau of Statistics China with the support of UNSD, Statistics Canada, Statistics Austria and UNWTO. More than 70 participants from 10 Asian countries attended the workshop, representing national and regional statistical offices, national and regional tourism authorities, central banks and other ministries. The workshop focused on the compilation of tourism statistics and tourism satellite account including data collection, processing and dissemination issues, the use of mobile phone and other big data sources and issues related to the statistical framework for measuring sustainable tourism. UNSD's presentations focused on compiling tourism satellite accounts.
---
Expert meeting on international trade in services statistics
Luxembourg, 21-22 November 2017
UNSD contributed a resource person to the meeting, organized by the Eurostat to review current methodologies of the modes of supply of trade in services, national compilation practices, as well as discuss the EU Framework Regulation on Integrated Business Statistics (FRIBS). The meeting introduced the FRIBS act for trade in services statistics, followed by a review of the existing services classification on "business versus accounting" principle to identify those services for which specific compilation guidelines under FRIBS will have to be prepared. Participants also discussed new services compilation guidelines, as well as a review of existing methodology, feasibility assessment, risks and limitations. About 20 experts, mostly from Europe, participated in this meeting.
---
Workshop on Measuring the Economic Impact of Tourism in Europe Using the Tourism Satellite Account
Brussels, Belgium, 29-30 November 2017
The Workshop was organized by the World Tourism Organization together with the EU Directorate-General for Internal Market, Industry, Entrepreneurship and SMEs. More than 100 participants from 35 countries participated representing national statistical offices, national tourism administrations, central banks and other government agencies as well as regional and international organizations. It brought together both the users and the producers of the indicators derived from the Tourism Satellite Account (TSA). The workshop discussed the TSA compilation, the use of the TSA results for tourism policy and gave emphasis on the economic and social dimension particularly the sustainable tourism indicators of SDGs. Tourism investment, tourism collective consumption and non-monetary indicators were discussed. UNSD contributed to the workshop explaining the current developments in drafting the Compilation Guide for TSA and its contents.
---
Data
The 1st UN Comtrade Data Fair25 September 2017, Geneva, Switzerland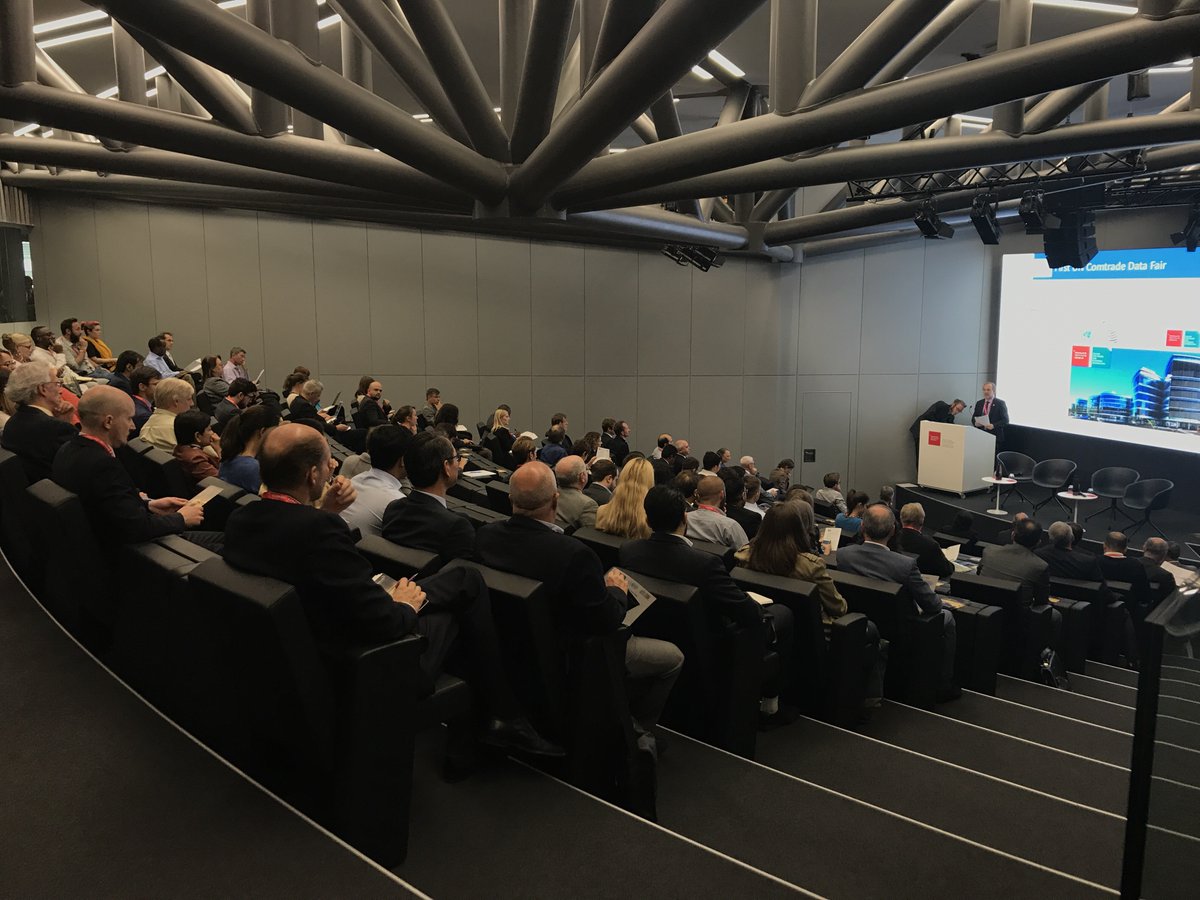 UNSD organized the first UN Comtrade Data Fair in close collaboration with the World Trade Organization and the Graduate Institute of International and Development Studies, preceding the 2017 WTO Public Forum. The main objective of this one-day fair was to explain and demonstrate the latest tools and applications for international trade data and their analytical use for trade-related research and policies. Throughout the day, trade data applications and data visualizations were demonstrated at several exhibition booths. An information session took place at lunch time with presentations from ITC, CEPII, WTO, Harvard University, Think Blue Data, Connecting Industries, Chatham House, Trade Data Monitor, Thomson Reuters, OECD and UNSD. At the end of the day, the Chief Economists of WTO and ITC, as well as the lead Trade Economist of the World Bank had an interactive discussion with the audience on the topic of "Trade, Global Value Chains and the unbundling of production and labor". The event was attended by about 150 persons.
For more information, visit the event website.
Activities on UN Comtrade Data Fair, Geneva, 25 October 2017
All-day exhibitions and stands on data fair
CEPII
Chatham House
Connecting Industries (Abrams Wiki)
Harvard
ITC
Oxford Economics
Think Blue Data
UNSD
Lunch panel on present and future of trade data and analytical applications
Jürgen Abrams of Abrams Wiki
Charlotte Emlinger of CEPII
Richard King of Chatham House
Mans Olof-Ors of Thomson Reuters Labs and Incubator
Sebastian Bustos of Growth Lab, Center for International Development, Harvard
Paul Janecek of Think Blue Data
Jürgen Richtering of WTO
Fabienne Fortanier of OECD
Christian Delachenal of ITC
Don Brasher of Trade Data Monitor
Markie Muryawan of UNSD
Afternoon mini presentations on specific topics
Abrams Wiki
Globe of Economic Complexity
Studio Bo
Chatham House
Think Blue Data
UN Comtrade
Evening panel on "Trade Global Value Chains and the Unbundling of Production and Labor"
Robert Koopman, Chief Economist of WTO
Marion Jansen, Chief Economist of ITC
José Guilherme Reis, Manager for Trade in the Trade and Competitiveness Global Practice, World Bank
---
Amazon Web Services public sector summitWashington DC, 13-14 June 2017
This event was organized by Amazon Web Services (AWS) in the Walter E. Washington Convention Center. AWS offers a broad set of global cloud-based products including compute, storage, databases, analytics, networking, mobile, developer tools, management tools, IoT, security and enterprise applications. These services help organizations move faster, lower IT costs, and scale. This event specifically targeted public sector and related organizations. An IT officer of UNSD participated with the objective to evaluate if AWS cloud computing services could be beneficial for the Division. Speakers at the event shared their experience on how to migrate their systems and infrastructure to cloud and the benefits achieved in terms of performance, scalability, availability, durability and cost efficiency. The summit also had booths from several partners of AWS that showcased their products and solutions which enables a seamless migration of existing applications and databases to an AWS cloud. The break-out sessions were very informative, specifically, the ones related to "server-less architectures", data analytics and visualizations. The summit had over 9000 participants, which far exceeded the expected 6000.
---
2017 IMTS National Compilation and Dissemination Practices (NCDP) Survey
UNSD made presentation on the draft survey in Task Force ITS meeting in 2016; and after collecting feedback from the members of TF, the survey was finalised in mid-2017; and invitation letters for participating the survey were sent to countries in mid-August 2017 with deadline of 31 October 2017. We intend follow up on the completion of the questionnaire in the period Nov 2017 – Jan 2018 and expect to send a final reminder to non-responding countries in the annual data request letter (February 2018).
IMTS 2010 was adopted by UN Statistical Commission at its forty-first session in 2010. UNSD encourages and monitors the full implementation of the IMTS recommendation for harmonized and comparable international trade statistics. UNSD conducts decennial surveys on National Compilation and Dissemination Practices (NCDP) to measure the rate of compliance with the recommendations, but also to better understand the needs for compilation guidance and strengthening of statistical capacity, and to accurately map the differences in compilation practices among countries. This results from the 2017 NCDP will help in the correct interpretation of trade statistics and their analysis.
The 2017 NCDP survey contains new questions directly related to IMTS 2010, but also many questions from the 2006 NCDP survey which are still applicable to monitor progress on the implementation of recommendations. This survey is administered as an on-line survey which some responses are already pre-filled from previous answers to assist respondents completing the survey. The questions are categorised in 27 topics with total of 316 questions followed by open-ended comments (see picture/table below). Users are also presented with information whether the questions are new, modified, unchanged compared to previous surveys.

| | |
| --- | --- |
| Topic | # of questions |
| General | 2 |
| Institutional arrangements | 12 |
| Source of data | 28 |
| Scope | 136 |
| Time of recording | 2 |
| Customs Procedure Codes | 49 |
| Territorial elements | 24 |
| Customs Union | 5 |
| Trade system | 17 |
| Classification | 14 |
| Quantity information | 12 |
| Valuation | 25 |
| Currency | 11 |
| Partner attribution | 29 |
| Customs | 7 |
| Tools | 4 |
| Outreach | 4 |
| Data Checking | 11 |
| Bilateral Asymmetries | 5 |
| Mode of Transport | 17 |
| Dissemination | 20 |
| Metadata | 10 |
| Confidentiality | 6 |
| Linking Trade & Business | 1 |
| Quality | 7 |
| Trade indices | 15 |
| Seasonal adjustment | 5 |
The survey is currently ongoing, nevertheless some countries have partly/fully completed it. See summary response at NCDP Result. Unlike the previous NCDP surveys which were submitted through email and were compiled separately, the 2017 NCDP survey is fully functioning web application, therefore it makes possible for countries to continuously update the metadata information while still preserving existing information. In addition, the metadata can be linked with UN Comtrade (or other applications) so that users of data would be fully informed with the latest on national compilation practices.
---
Data visualizations on the basis of UN Comtrade (2017 update)
Thanks to UN Comtrade Public API, there are more and more institutions developing advanced and innovative data visualization using Comtrade data. These data visualizations are being catalogued and made publicly available at UN Comtrade Labs. Thus, it is a place to showcase innovative and experimental uses of UN Comtrade data. Several trade data visualization initiatives have been added to Comtrade Labs in second semestre of 2017:
DIT/BEIS International Trade in Goods and Services Visualisation
The Department for International Trade (DIT) and the Department for Business, Energy and Industrial Strategy (BEIS) in the UK have created this interactive visualisation which reflects the very latest data available in UN Comtrade. Countries' exports, imports and trade balances are displayed in a user-friendly, color-coded world map, along with downloadable time-series data and information on the top 10 trading partners and traded commodities/services. The visualizations can be further customized by selecting specific trading partners and/or commodities/services. The tool utilizes the UN Comtrade Application Programming Interface (API), which currently allows up to 100 requests per hour.
---
The Atlas of Economic Complexity 2.0 Provided by Harvard Center for International Development The Center for International Development at Harvard University has launched Atlas 2.0, an update to CID's Atlas of Economic Complexity enhanced with new features, refreshed visualizations and 2016 data. The Atlas is a powerful research and data visualization tool that allows people to explore over 50 years of global trade dynamics, across 900+ products for every country. As a dynamic resource, the tool combines raw COMTRADE data with insights from CID's research in a way that is accessible and interactive. Today, The Atlas is used by policymakers, investors, entrepreneurs, academics as an important resource for understanding a country's economic structure.
---
2016 International Trade Statistics Yearbook – Volume II Trade by Product - December 2017
The 2016 International Trade Statistics Yearbook: Volume II - Trade by Product, provides an overview of the latest trends of trade in goods and services showing international trade for 257 individual commodities (3-digit SITC groups) and for the 11 main Extended Balance of Payments Services (EBOPS) categories. The main content of the yearbook is divided into three parts. Part 1 consists of 11 detailed world data tables on merchandise trade. Part 2 and 3 contain the commodity trade profiles and profiles of service trade, respectively. The profiles offer an insight into the trends in individual commodities and service categories by means of brief descriptive text, concise data tables and charts using latest available data. The information on commodity trade in this year's edition of the yearbook is based on data provided by 146 countries (areas), representing 95.7% of world trade in 2016 and the information on service trade for 2015 is based on data provided by 153 countries (areas). For more detailed and latest available data, please consult UN Comtrade which are the sources of the information presented in the yearbook, and which are continuously updated.
Download the current and past editions of International Trade Statistics Yearbook.
---
Progress of UN Comtrade Upgrade Project2017 update
In 2017, with a complete IT staff, the progress on UN Comtrade upgrade is well underway. The project aims to improve both trade data processing and dissemination systems especially with the integration of new data items in IMTS 2010 and better linkage to metadata (including results of 2017 NCDP survey). Both trade in services and analytical series from Monthly Bulletin of Statistics are now accessible through UN Comtrade (https://comtrade.un.org/data/mbs).
The aims in processing system upgrade are to improve various processing methodologies and to enable more automation in the data processing. See table below for main differences between legacy and new systems.
| | | |
| --- | --- | --- |
| Topic | Legacy | New |
| Integration | Three different systems for IMTS Annual & Monthly; Trade in Services Annual | Integrated system |
| Data items (IMTS, SITS) | Trade by product and partner | In addition, by mode of transport, customs procedure codes, 2nd partner (IMTS); support for mode of supply (SITS) |
| Valuation (IMTS) | Single valuation for imports and exports (CIF or FOB) | In addition, dual valuations for imports (CIF and FOB) |
| Quantity unit (IMTS) | Standardisation to WCO quantity units (12 units) | In addition, standardisation to UNSD quantity units (43+ units) |
| Weight (IMTS) | Single weight | Dual weights: net and gross weights |
| Quantity Estimation (IMTS) | Not all commodities are estimated | Estimation for all commodities with quality flag |
| Conversion (IMTS, SITS) | Conversion at 6-digit level HS (IMTS); No conversion (SITS) | Conversion at any HS level (IMTS); EBOPS conversion (SITS) |
The dissemination system interface has been upgraded continuously including release of comprehensive API catalogue: user authentication, data availability, trade data extraction and bulk download, MBS analytical series and more to come. In addition, there are regular updates to UN Comtrade Labs; the latest such as UK DIT/BEIS International Trade in Goods and Services or Thomson Reuters Labs NAFTA Trade Flow. The processing system is currently being tested by end users; it is expected that incoming data in 2018 will be processed by the new system.
Regarding to UN Comtrade processing system, main development was completed in 2016, and now we are entering testing phase. It's expected that beta version of trade processing system will be completed in early 2017.
Related documents/links:
---
Meet the Trade Statistics Branch
Comings and Goings
No change in this period.
---