Methodology
Measuring entrepreneurship from a gender perspective
---
Existing research finds that gender is relevant to the:
determinants of entrepreneurship - Women are less likely than men to start an enterprise and more likely to be motivated by "push" factors, such as poverty, divorce, unemployment or dissatisfaction with their current employment, to start an enterprise;
characteristics of enterprises - Women's enterprises tend to be smaller, to operate with less capital, and to be more embedded in the family structure than men's enterprises;
performance of enterprises - Evidence on gaps in sales and profits between female and male-owned firms suggests that many women entrepreneurs are not yet able to fulfil their productive and innovative potential. However, traditional performance measures, such as growth and profits, are not always the top priority for women entrepreneurs because they may have other objectives than profit maximization when starting enterprises, such as greater flexibility to balance work and family.
Measuring entrepreneurship from a gender perspective can provide a better understanding of how women contribute to the economy and of how to foster women's entrepreneurial activity.
To encourage the collection of official data on women's and men's entrepreneurship, the EDGE project is developing methodological guidelines on measuring entrepreneurship from a gender perspective in household surveys and testing the methodology in six countries: Georgia, Maldives, Mongolia, Philippines, South Africa, and Uganda. Analysis of the pilot data will inform the revision of the guidelines and the recommendation of key indicators for global and national monitoring.
EDGE Conceptual framework
---
EDGE defines entrepreneurs as those persons who have direct control over an enterprise they own alone or with other individuals. The owners of economic units producing goods and services intended for own final use are not considered entrepreneurs.
A simple framework is proposed to orient consistent, comparable and relevant data collection on women's and men's entrepreneurship that provides a comprehensive description of gender differentials in entrepreneurial outcomes and help decision-makers understand the main individual and contextual drivers of these differentials.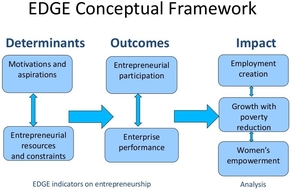 As gender gaps in entrepreneurship manifest themselves in a relatively low number of female entrepreneurs and in a relatively low economic size of female-owned businesses, two main sets of outcome variables are targeted:
variables describing gender differences in entrepreneurial participation, and
variables describing gender differences in entrepreneurial performance.
Drivers of gender gaps can be usefully divided into those linked to motivation and aspiration differences, and those related to gender-unequal availability of entrepreneurial resources and constraints.
Three likely impacts of a reduction of gender gaps in entrepreneurship are:
sustained creation of new jobs, with improved quality of employment especially for vulnerable, micro-entrepreneurs;
poverty-reducing economic growth, supported by increased diversity of the business population and higher levels of competition; and
women's empowerment, as a spill-over from higher individual earnings of women, and higher control over family enterprises and related decisions.