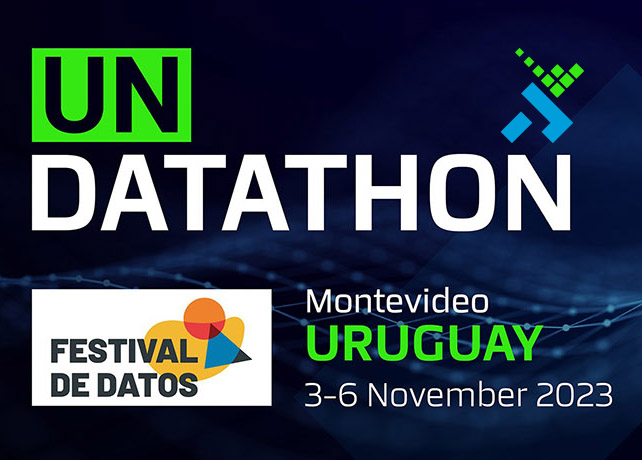 Participant Info
Application process
The application process for the UN Datathon consists of two stages:
First Stage - Starting 5 July:

Initial application form requires basic team information and a few pre-screening questions.
Based on the answers, the organizers will pre-approve and notify teams on a rolling-basis.
Applications should be submitted as soon as possible with a hard deadline of 30 September 2023.

Second Stage (currently ongoing until 10 October):

Once pre-approved, teams will have the opportunity to change the composition of their teams until a certain date (likely 10 October). After that changes to the team will not be possible. Teams with less than 3 people or more than 5 will not be accepted.
Teams must specify whether they prefer to participate remotely or in-person at the main venue in Montevideo (Uruguay), or at one of the satellite locations at UN Big Data Regional Hubs in Dubai (UAE), Hangzhou (China), Kigali (Rwanda,) Rio de Janeiro (Brazil), at one of the participating universities in Brisbane (Australia), Geneva (Switzerland), or at the UN Economic Commission for Africa in Addis Ababa (Ethiopia). Teams will be asked to rank their preferred in-person location since space will be limited at some in-person locations.
Approved teams will be notified by 10 October and will receive log-in credentials for the coding environment with their acceptance.
Datasets
This year, the main data sources would be geospatial and geocoded data. The organizers will prepare selected datasets and make them available through the UN Global Platform or AWS. Participants are welcome to use any other publicly available datasets as well and combine them with the datasets provided by the organizers.
More information on the available datasets to work with will be shared soon.
Technology and Logistics
Coding platform: AWS, UN Global Platform
Submission platform for code: AWS
Submission platform for presentation videos: YouTube
Information subject to confirmation.
Further instructions will be provided on how to submit your final entries.
UN Datathon group on the Global Network
A dedicated UN Datathon group on the Global Network of Data Officers and Statisticians will allow participants to ask questions and get support ahead of the Datathon. It will be the main communication platform for participants to contact the organizers and Datathon mentors.
During the UN Datathon, a Slack channel will be provided for participants.
How to join the UN Datathon support group on the Global Network of Data Officers and Statisticians
To enhance your experience and connect with a wider network of data enthusiasts, we encourage you to join our UN Datathon group of the Global Network of Data Officers and Statisticians on Yammer/Viva Engage.
To join the Global Network's UN Datathon group on Yammer, simply follow these steps:
Request access by following this link: https://www.yammer.com/unstats
Signing up preferably with your work / official / university email address and joining the Global Network of Data Officers and Statisticians on Yammer. (If you need to join with a private email address, we will follow-up via email with you to check if you are part of our membership scope. Please reply to this email mentioning that you are a participant of the UN Datathon.)
Search "UN Datathon" group in the Global Network of Data Officers and Statisticians on Yammer
Click "Join Group" to join the UN Datathon group: https://www.yammer.com/unstats/#/threads/inGroup?type=in_group&feedId=145861738496&view=all
On-site logistics and information
Montevideo, Uruguay

Above information is provided by our partner event of the "Data Marathon" (Data Marathon: AbreLatam/ConDatos, UN Datathon, Festival de Datos)
Judging
The first prize will be for the team with an innovative data-driven solution for a global or local challenge, which is inspiring and has the potential to be actually implemented. As a mandatory condition this year the solution should contain a geo-spatial component, which needs to be explicitly mentioned in the presentation. Additional prizes will be awarded for the team with the best solution using the AIS vessel tracking data and for the team, which provides the best solution using privacy-enhancing technologies and the corresponding encrypted data sets. More generally, the judges will use the following criteria to determine which team will win first prize.
Teams must submit:
Presentation explaining their solution (free format).
Video with maximum length of 10 minutes with voice-over
Coding scripts
The presentation videos of all submitted solutions which meet a minimum standard of quality will be showcased during the "Festival de Datos" in Punta del Este, Uruguay, taking place from 7 to 9 November 2023 right after the Datathon.
The participating teams agree to license their code under an open source license. More information about the license will be communicated at a later stage.
Scoring Rubic
| Criterion | Description |
| --- | --- |
| Theme | Does the team develop a solution that addresses a global or local sustainability challenge? |
| Potential for implementation | Is the solution realistic and scalable? Does it have great potential to be implemented as a permanent service? |
| Innovation | Does the team's idea show "Out of the Box" thinking? Is the team's solution groundbreaking? |
| Methods | Is the technology behind the idea impressive? Does the solution use any new methods? |
| Presentation* | How well was the project presented? Does it make the idea more appealing? |
| Visualization* | How attractive, innovative and user-friendly is the data visualization? |
* These criteria are used for separate prizes for "Best Presentation" and "Best Visualization".
Points are subtracted for:
Incomplete submission of codes, slides, video
Videos with a length substantially shorter or longer than 10 minutes (+/- 2 minutes)
Use of private data in the project
A solution without a geo-spatial component
Awards
The list of awards and the prizes that can be won are still being defined but the list of awards will likely include:
Overall UN Datathon 2023 winners [could be an expert or a youth team]
Overall 1st Place UN Datathon 2023
Potential prize: Will be invited to present their work at the next International Conference on Big Data and Data Science for Official Statistics, at the UN World Data Forum in Medellín, Colombia 2024, or at a similar event.
Overall 2nd Place UN Datathon 2023
Overall 3rd Place UN Datathon 2023
Best Youth Teams 1
1st Place Youth Team at the UN Datathon 2023
2nd Place Youth Team at the UN Datathon 2023
3rd Place Youth Team at the UN Datathon 2023
Best university student team 2
Best school student team
1
All members of youth teams need to be below 32 years of age.
2
All members of a university student team need to be currently enrolled in an undergraduate or graduate programme.
Best Teams by Region
Best team overall from Sub-Saharan Africa
Best team overall from Northern Africa and the Middle East (MENA)
Best team overall from Asia and the Pacific (excluding Middle East)
Best team overall from Latin America and the Caribbean (including Mexico)
Best team overall from Europe
Best team overall from North America (excluding Mexico)
Best team overall from Oceania, Australia, and New Zealand
Best global team overall - teams which have members from at least 3 different regions
Best visualization and presentation
Best visualization
Best presentation
The list of awards might be subject to change. The list of prizes is currently being defined. Stay tuned!