Methodology
Release of 5th revision of the Classification by Broad Economic Categories (BEC)
At its 43rd session in 2012, the United Nations Statistical Commission agreed with the proposals made by the Expert Group (EG) on International Statistical Classifications to revise the BEC and establish a technical subgroup (TSG) tasked with the preparation of this fifth revision. The terms of reference of the technical subgroup identified four areas for improvement:
Re-defining BEC structure to better reflect current economic reality.
Extending the BEC's scope to include services as well as goods, while giving extra attention to the definition of intermediate goods.
Improving explanatory materials to help both compilers and users of data disseminated according to BEC.
Providing updated correspondence tables to link BEC with other statistical classifications.
The TSG completed a first full draft of the 5th revision of BEC by June 2013. However, several iterations were necessary to arrive at a version that was ready for global consultation. The global consultation was conducted from July to September in 2014, and a report of this global consultation was submitted to the EG at its biennial meeting in May 2015 as a background document. The Expert Group subsequently endorsed the draft of the 5th revision of BEC and put it forward to the UN Statistical Commission for endorsement at its 47th session in 2016.
The unedited version of the 5th revision of BEC was submitted to the Commission as a background document in 2016. The Commission at its 47th session endorsed the 5th revision of BEC and recommended its use as an international statistical classification and that it be included in the International Family of Statistical Classifications.
TWith its adoption, focus has now shifted to finalizing the correspondence tables between BEC Rev.5 and HS/ CPC/ EBOPS /ISIC. Those correspondence tables will be posted on the website of UNSD as soon as possible.
Related documents/links:
---
Big Data Project Inventory
Under the auspice of Global Working Group on Big Data for Official Statistics, big data project inventory was launched in August 2010. It is a joint product between the World Bank and UNSD, and as of now, the inventory consists around hundreds of projects covering various big data sources such as mobile phone data, scanner data, road sensor data.
This inventory is a catalogue of Big Data projects relevant for the production of official statistics and SDG indicators, and other type of statistics used for the management and monitoring of public sector programs/projects. Maintenance and updating procedures for the inventory have been standardized and the mapping of Big Data projects to the SDG goals and targets should further enhance its usefulness for purposes of official statistics. With the establishment of this unique Big Data Inventory, further efforts will be made by the GWG to promote this catalogue of practices in the use of Big Data in the official statistical and the wider Big Data community. New project can be considered for inclusion in this inventory by filling out this application form.
The inventory provides option to filter projects based on specific criteria: geographic area, organization, data source, statistics area or SDG goal. The standardized detailed information on specific project may include the following: contact information, project description, objective, data source, statistics are, partnership, SDG indicators, data access, data coverage, data quality, methodology, technology, and other relevant information.
Related documents/links:
---
SDMX-IMTS Data Structure Definition version 1.0
An inter-agency working group comprising of Eurostat, the International Trade Centre (ITC), OECD, UNSD (acting as the secretariat and chair of the working group), and the United Nations Conference on Trade and Development (UNCTAD) was established to support the implementation of SDMX standards in IMTS in 2013. This working group seeks to specify uniform structures, concepts, definitions, and code lists for IMTS data and metadata which comply with the latest version of the SDMX standard (2.1), and which follow the latest recommendations for IMTS (IMTS 2010).
The design of the draft Data Structure Definition (DSD) for SDMX-IMTS was completed in early May 2015 and was released for global consultation and public review, which was conducted in mid-2015, in order to receive broad input on the proposed DSD. The results of the global consultation were analysed and integrated into the revised global DSD for SDMX-IMTS. This revised version and relevant documents were submitted to SDMX Secretariat and were made available at http://comtrade.un.org/sdmx in mid-2016. In addition, the working group and other relevant partner organisations are now developing implementation strategies and undertake capacity building activities in countries, such as establishment of a pilot implementation project with Mexico and Morocco.
Related documents/links:
---
Methodological Articles at UN Trade Statistics Knowledgebase
Staff at UN Trade Statistics Branch regularly receives questions and remarks from data providers and users with regard to methodology on international merchandise trade statistics and/or statistics on trade in services. Some of them made their ways to UN Trade Statistics Knowledgebase for further sharing and dissemination. In 2016, they are as follows:
---
Events & Capacity Building
Expert Group Meeting, Handbook on a System of Extended International and Global Accounts
New York, USA, 16-28 January 2016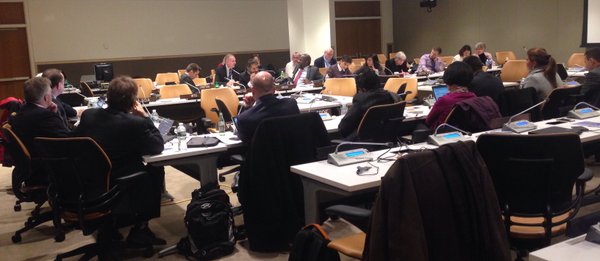 Following Decision 46/107 taken by the Statistical Commission at its 46th session in 2015, a handbook on a system of extended international and global accounts will be prepared, which will serve as the measurement framework for international trade and economic globalization. The first meeting of the expert group took place on 26-28 January 2016 at the UN headquarters in New York and the handbook was the main topic of discussion at this meeting.
This handbook will build on existing work in this area, in particular by the UNECE, the OECD and Eurostat, and address issues of micro-data linking of business and trade statistics, as well as address the integration of economic, environmental and social dimensions of trade and globalization as an extension of the System of National Accounts 2008 (2008 SNA) and the System of Environmental-Economic Accounting 2012 (SEEA 2012). Furthermore, the Handbook will refer to and build upon the work of the Friend of the Chair group, which concluded that improved statistics are necessary and should bring a better understanding of the role of the external sector in an economy, the openness of its domestic and foreign markets and the impact of openness on social, economic and environmental upgrading, including the level and quality of employment. More and better data is needed in developed, emerging and developing economies alike: interconnected economies require interconnected statistics and all economies can benefit from a better understanding of these relationships.
For more information, visit the conference website.
---
UNSD/GCC-STAT Regional Workshop on International Merchandise Trade Statistics
Muscat, Oman, 7-10 February 2016

The workshop was opened by the Director General of GCC-Stat and the Executive President of the Central Bank of Oman. UNSD was represented by the Chief of the International Merchandise Trade Statistics Section and one of his staff. About 30 statisticians and customs officers from Gulf Cooperation Council (GCC) countries, Western Asia and North Africa countries participated in the workshop. The purpose of the workshop was to increase the understanding of the latest concepts and definition of the International Merchandise Trade Statistics (IMTS), to share national experiences in the compilation of trade statistics and to discuss IMTS indicators of quality. Part of the workshop was also the organised technical visit to the offices of the Customs administration of Oman.
For more information, visit the conference website.
---
Technical visit to Maldives Customs & National Bureau of Statistics
Maldives, 14-15 February 2016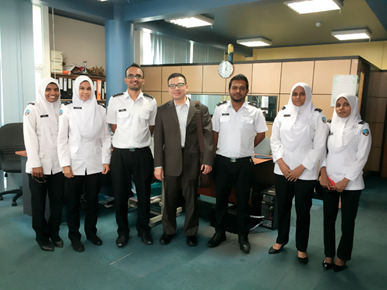 The Chief of the international Merchandise Trade Statistics (IMTS) section of UNSD visited Maldives Customs and National Bureau of Statistics on 14-15 February 2016. Maldives Customs is the responsible agency for IMTS compilation and dissemination, and had requested UNSD for assistance in statistical capacity building. The objectives are to improve the quality of compilation, analysis and interpretation of trade data at Maldives Customs. UNSD will assist in better application of international standards and best practices. As a result the data should be more consistent, more accurate and timelier, and will therefore of better use for the statistical analysis by the stakeholders. Strengthening capacity will include a fellowship programme for Maldives trade statisticians and some follow-up technical visits in the area of methodology, data quality framework, and tools for data analysis and visualization. UNSD encourages South-South cooperation and will try to involve assistance from a neighboring country or from South Africa.
---
South-South cooperation on official trade statistics between Mexico and El Salvador
Mexico City, Mexico, 13-17 June 2016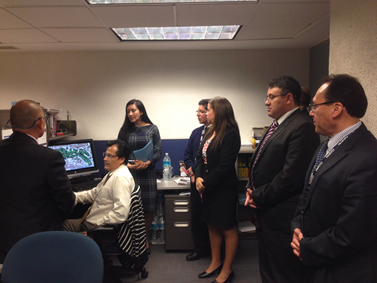 UNSD organized a technical study visit for three staff members of the Central Bank of El Salvador (BCR) to the National Institute of Statistics and Geography of Mexico (INEGI) in Mexico City on 13-17 June 2016. This study visit on the topic of international merchandise trade statistics is part of a capacity building project for the Central Bank of El Salvador to modernize its trade data processing and dissemination systems with the overall objective to improve the quality of El Salvador's trade statistics. During this visit the three staff members of BCR received training by a variety of experts from Mexico, such as trade statistics compilers, IT specialists, customs officers, and economists from the Tax Administration, the Central Bank of Mexico and from the Ministry of Economy. The visit was facilitated by the UNSD Chief of International Merchandise Trade Statistics. Earlier activities under this project, which is supported by UNSD, included a technical study visit of BCR to the Central Bank of Paraguay in March 2015, and a working meeting of BCR, INEGI and UNSD in Aguascalientes, Mexico, in September 2015.
---
Release of IMTS2010 Compilers Manual (English and Russian printed editions)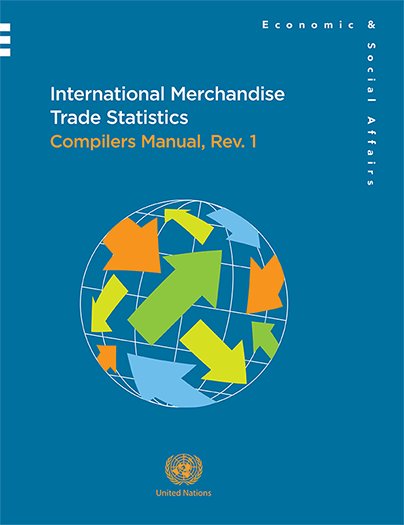 The IMTS2010 Compilers Manual contains detailed explanation of certain recommendations and provides practical guidance for compilers by describing good or best practices applicable under different circumstances. The Manual promotes the adherence to good practices and recommends specific solutions to compilation issues related to international merchandise trade statistics. The final edited versions are now available in English and Russian.
Related documents/links:
---
Coordination
Eurostat Task Force on Global Production and Integrated Global Accounts
Luxembourg, 17-18 March 2016 and 29-30 September 2016
At its December 2015 meeting, the Directors of Macro-Economic Statistics (DMES) recognised that concrete steps forward are needed to respond to the globalisation challenges to the accounting frameworks and agreed on the launch of a project on Global Production and Integrated Global Accounts (IGA) in the second half of 2016. DMES emphasised that the globalisation issues shall be spelled out in concrete problems and advised that the dedicated to the project task force starts its work and amends the IGA business case with a view of its presentation. At its June 2016 meeting, the Directors of Macro-Economic Statistics (DMES) agreed that the project task force starts its work in autumn 2016. The project divides the work into three work packages: 1) Integrated Global Accounts, 2) Global Production and 3) Improving quality of data on globalisations.
---
Meeting of the OECD Working Party on Trade in Goods and Services
Paris, France, 21-23 March 2016
This meeting brought together compilers of merchandise trade statistics and balance of payment statistics from national statistical offices and central banks of the 34 OECD members and approximately 8 accession countries, in addition to representatives of Eurostat, IMF, WTO and UNSD.
Presently most issues of trade statistics are viewed in the context of global production and the associated consequences for balance of payments and national accounts. Emphasis is placed on the business strategies of multi-national enterprises. This includes the offshoring of processing of goods (importing manufacturing services), widespread foreign direct investment relations, profit shifting outside the jurisdiction of the MNE's headquarters and issues of how much value-added is created where in the global value chain. The issues are at the intersection of global production, trade and investment.
During the meeting, much attention was given to bilateral trade asymmetries--a topic in which UNSD will actively participate. This work feeds into the work of the UN Expert Group on International Trade and Economic Globalization Statistics. In a parallel work stream, UNSD participated with USA, Canada and Mexico in building an extended supply and use table for the North America automotive GVC industry as a model example of a regional GVC industry.
---
The Fifth International Conference on Establishment Surveys (ICES-V)
Geneva, 20-23 June 2016
This conference takes place every five years and organized this time in Geneva by the Swiss Federal Statistical Office, Statistics Sweden and UNECE. About 300 statisticians from national and international statistical institutes as well as from academia attended the event. The Chief of the Trade Statistics Branch represented UNSD in three invited sessions on global value chains and measurement of interconnectedness of economies, on international trade and globalization and on developing and mainstreaming business statistics in low and middle income countries. This last session gave the opportunity to Mexico, Malaysia, Tanzania and South Africa to share their respective initiatives for the improvement and modernisation of business statistics through the development and implementation of original and innovative methodologies and tools but also to present the outstanding challenges in the production of coherent and consistent business statistics. The conference confirmed the leading role of UNSD in moving a global enterprise group register forward.
For more information, visit the conference website.
---
7th Travel Workshop hosted by Statistics Norway
Oslo, Norway 20-21 June 2016
More than 30 representatives of national statistical offices and central banks discussed issues related to the travel item in the Extended Balance of Payments Services classification (EBOPS 2010). The main topics discussed during the workshop were data collection, methodology, asymmetries, harmonization related to the travel item. Presentations were also made on measuring expenditure of asylum seekers, seasonal and border workers and also on measuring 'sharing economy'. Special attention was given to the new data sources (payment cards, mobile phone data) and it was decided that the Group will draft some common guidelines of the utilisation of Big Data in travel item/tourism statistics. The Chief of Statistics of International Trade in Services Section represented UNSD at the meeting and introduced UNSD's current initiative, Global Survey on Tourism Statistics and Tourism Satellite Accounts which will be used to support the development of the sustainable tourism related SDG indicators and also asked the countries to support UNSD's upcoming project on drafting the Compilers Guide for Tourism Satellite Account.
---
Eurotrace User Group
In February 2016, UNSD, Eurostat, African Union, CARICOM, COMESA, ECOWAS and other interested parties decided to form EUROTRACE User Community (EUROTRACE-UC). The main goals of this user community are as follows:
To identify common issues and agree on setting the priority on features for improvement and addition
To maintain list of issues including the status of resolution
To fulfil the needs of training and capacity building in countries by pooling available resources
The User Community has open membership to those currently using or planning to use EUROTRACE in the foreseeable future and/or to those that are seriously interested in its development; however, international organisations such as UNSD, COMESA, ECOWAS, AUC, ASEAN, EUROSTAT, CARICOM, and UNCTAD will be acting as catalysts to ensure continuous improvement of EUROTRACE and active participation of the user community. The user community will take its decisions in the spirit of consensus and cooperation.
The secretariat of EUROTRACE-UC will be decided by the members of User Community and will rotate every two years. The first secretariat starting in 2016 will be UNSD. The secretariat serves to provide support for well-functioning coordination among the members, such as conducting regular meetings, maintaining issues log, and establishing communication with relevant stakeholders, etc.
For more information, visit the Eurotrace User Group website.
---
Data
UN Comtrade Analytics: Exploring trade data
The UN Statistics Division (UNSD) has created a prototype of an interactive and easy to use visualisation of time-series merchandise trade data, UN Comtrade Analytics, that reflects the very latest trade data available in UN Comtrade. And in addition, to the extent possible, the data gaps were estimated and flagged accordingly. Countries' export and import data are displayed in a world map that is colour coded by trade intensity and visualisation of trade balances, top trading partners, top traded commodities, etc. and it can be further customised by selecting individual or multiple countries, regions and/or commodities, and period. The data used in the visualisation are taken from detailed world data tables of International Trade Statistics Yearbook, and regularly refreshed taking into account incoming new or revised datasets in UN Comtrade. This interactive visualisation tool makes use of the Qlik technology provided by Office of Information and Communication Technology of the UN.
For more information, visit UN Comtrade Analytics.
---
Release of 2015 International Trade Statistics Yearbook – Volume I: Trade by Country - June 2016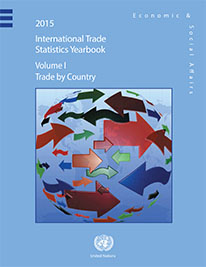 The 2015 International Trade Statistics Yearbook: Volume I - Trade by Country was released in June 2016. The sixty-fourth edition of this publication provides an overview of the latest trends of trade in goods and services of most countries and areas in the world up to reference year 2015. The main content of the yearbook is divided into two parts. Part 1 consists of two detailed world data tables on merchandise trade. Part 2 contains the country trade profiles for most countries and areas in the world. The profiles offer an insight into the merchandise and services trade performance of individual countries and areas by means of brief descriptive text, concise data tables and charts using latest available data. This volume provides trade in analytical tables and graphs for each of 171 countries and areas, of which 97 with merchandise data for 2015 (covering 87% of world merchandise trade). The figures provided in this publication are based on data directly reported by the countries to the UN Statistics Division. The data used in the yearbook are publicly available in the UN Comtrade database.
Download the current and past editions of International Trade Statistics Yearbook.
---
UN Comtrade Data Availability

Data update in UN Comtrade is undertaken continuously as soon as trade data is submitted by countries. Therefore, it is important for users to know available country-periods in UN Comtrade datasets at certain point in time. It is especially crucial when aggregating trade figures (i.e., significant drop in trade may be a result of data gaps) or performing time series analysis. And with the addition of monthly merchandise data and services data in 2014 and 2016, respectively, legacy annual merchandise data availability web services are no longer sufficient. Therefore, integrated data availability API and its visualization dashboard were developed so that users can keep track on available country-periods and be mindful of data gaps.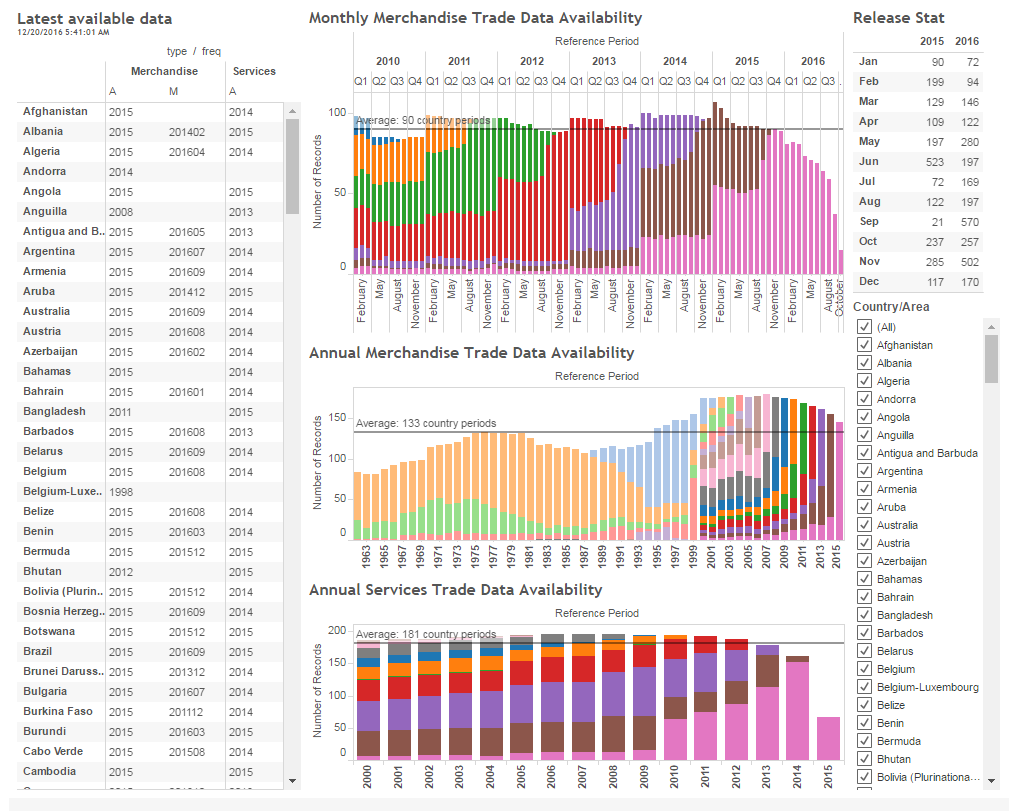 Related documents/links:
---
Meet the Trade Statistics Branch
Comings and Goings
In April 2016, Daniel Eshetie, Associate Information System Officer, left Trade Statistics Branch and joined Statistical Services Branch of UNSD. He would be working on interesting SDGs project. All the best!
In April 2016, Govindaraj Rangaraj joined Trade Statistics Branch of UNSD as Information System Officer. He is technical team leader in the upgrade of UN Comtrade and maintenance of other trade databases/systems. Before joining, he worked in WTO as software developer since 2010. Welcome aboard!
In June 2016, Kenneth Iversen, Associate Statistician, left UNSD to work at another division of Department of Economic and Social Affairs. All the best of your future endeavour.
---