Global Forum on International Trade Statistics
and Economic Globalization
This website gives current policy questions and measurement problems, as well as background information, of international trade statistics in the context of a fragmented production process which nowadays involves many countries in the global value chains and which creates interdependencies among countries with economic, financial, social and environmental dimensions. The website describes new developments in (1) basic trade and related statistics (international merchandise trade statistics, statistics of international trade in services, FATS, FDI, outsourcing of business functions and the corresponding trade classifications), in (2) the accounting frameworks of SNA and BOP, and in (3) globalization indicators related to trade and economic interdependencies of nations. This split into three categories is in line with the scheme of the infrastructure of statistical information, as used in the European Statistical Programme 2013-2017 (see picture below).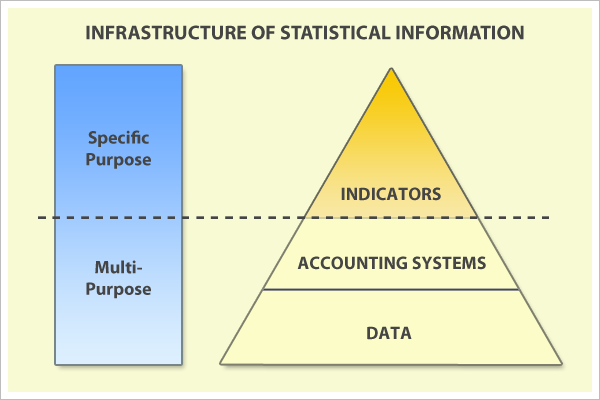 The existing measurement frameworks of IMTS, SITS, BOP or SNA do not fully grasp the measurement of economic interdependencies, exposures and vulnerabilities of countries through the global value chains or through operations of multi-national enterprises. The website highlights a number of the issues which are difficult to measure and for which data gaps exist, such as manufacturing services on input owned by others, intra-firm trade, ownership of intellectual property products and other economic interdependencies inside global value chains. Many international task teams are working on aspects of international trade and economic globalization, but an overarching framework and systematic coordination are lacking. In this respect it can be noted that Eurostat has started to develop a measurement framework for statistics on global value chains and economic globalization. These working groups can also be roughly divided into those which are approaching the statistical issues (of international trade and economic globalization) from a micro-economic and basic data compilers point of view, those groups which follow a more macro-economic accounting approach, and those which are developing indicators for specific policy purposes.
The Global Forum website uses the breakdown of Data, Accounting Systems and Indicators throughout the various topics of publications, working groups, events and projects. If an item cannot be classified correctly into any of these three categories, it will be classified in the 'General issues' category. The specifics of these four categories are thus as follows.
General Issues of International Trade Statistics
International Trade and related Economic Statistics
Accounting Framework for Trade and Macro-economic Issues
Indicators for International Trade and Economic Globalization
Click titles below to expand