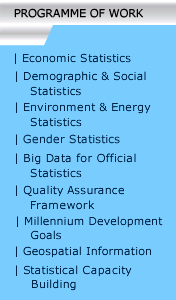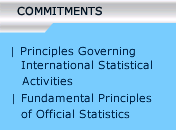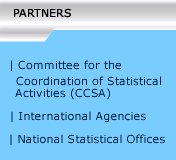 ---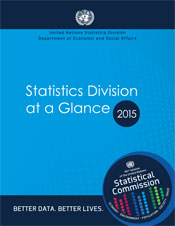 Latest UNSD Brochure:
Advancing the Global
Statistical System- UNSD's major work areas
and accomplishments
---
---
UNSD Questionnaires

or Data Requests
to be sent to countries
(2012-2013 Calendar)
---
WARNING - CONFIDENCE SCHEMES AND SCAMS
The United Nations Statistics Division is aware of various schemes being circulated via e-mail, Internet web sites, regular mail or facsimile, falsely stating that they are issued by or in association with the United Nations and/or its officials. These scams, which may seek to obtain money and/or personal details from the recipients of such correspondence, are fraudulent. more...
---
Informal meeting of the Open Working Group on measuring progress

On 17 December 2013, statisticians will meet the members of the Open Working Group to discuss how statistics can assist in the design of the Sustainable Development Goals (SDGs) and the post-2015 goals and targets. The keynote address will be delivered by Walter Radermacher, Chief Statistician of the European Union. Chief statisticians and monitoring experts from national statistical offices around the world will be present to provide their experiences and expertise and to discuss with the members of the OWG.
Read more

This year's report shows that substantial progress has been made in meeting many of the MDG targets, but others will require redoubled efforts to meet the 2015 deadline. It also reveals that achievement has been uneven among and within countries. more

Recent Events 

Latest Releases

This publication contains data for more than 230 countries or areas, including the reference year 2012. Tables presented include a world summary of selected demographic statistics, statistics on the size, distribution and trends in national populations, fertility, infant and maternal mortality, general mortality, nuptiality, etc.

This publication provides an overview of the world trade and detailed information (with brief analytical text, summary tables and graphs) on the merchandise trade of 258 commodities in 2012.

This report presents data on total, female and male population counts from the most recent population census, population estimates and number and rates of vital events - births, deaths and infant deaths - for all the countries of the world.

Over 50 indicators have been collected from more than 20 international statistical sources and are presented in one-page profiles for 216 countries or areas of the world.

This publication is a source of overall consumption statistics of energy commodities in all sectors and provides detailed information on production, trade and consumption of electricity, net installed capacity and thermal power plant input and efficiency for selected countries.

This publication is an annual compilation of a wide range of international economic, social and environmental statistics on over 200 countries and areas, obtained from sources including United Nations agencies and other international, national and specialized organizations.
MDG Progress Chart 2013
Friends of the Chair Group
UNSD on Twitter
Databases
World Statistics Day 2015
Population & Housing Census