As a group, women work as much as men, if not more. When both paid and unpaid work such as household chores and caring for children are taken into account, women work longer hours than men—an average of 30 minutes a day longer in developed countries and 50 minutes in developing countries. Gender differentials in hours spent on domestic work have narrowed over time, mainly as a result of less time spent on household chores by women and, to a smaller extent, by an increase in time spent on childcare by men.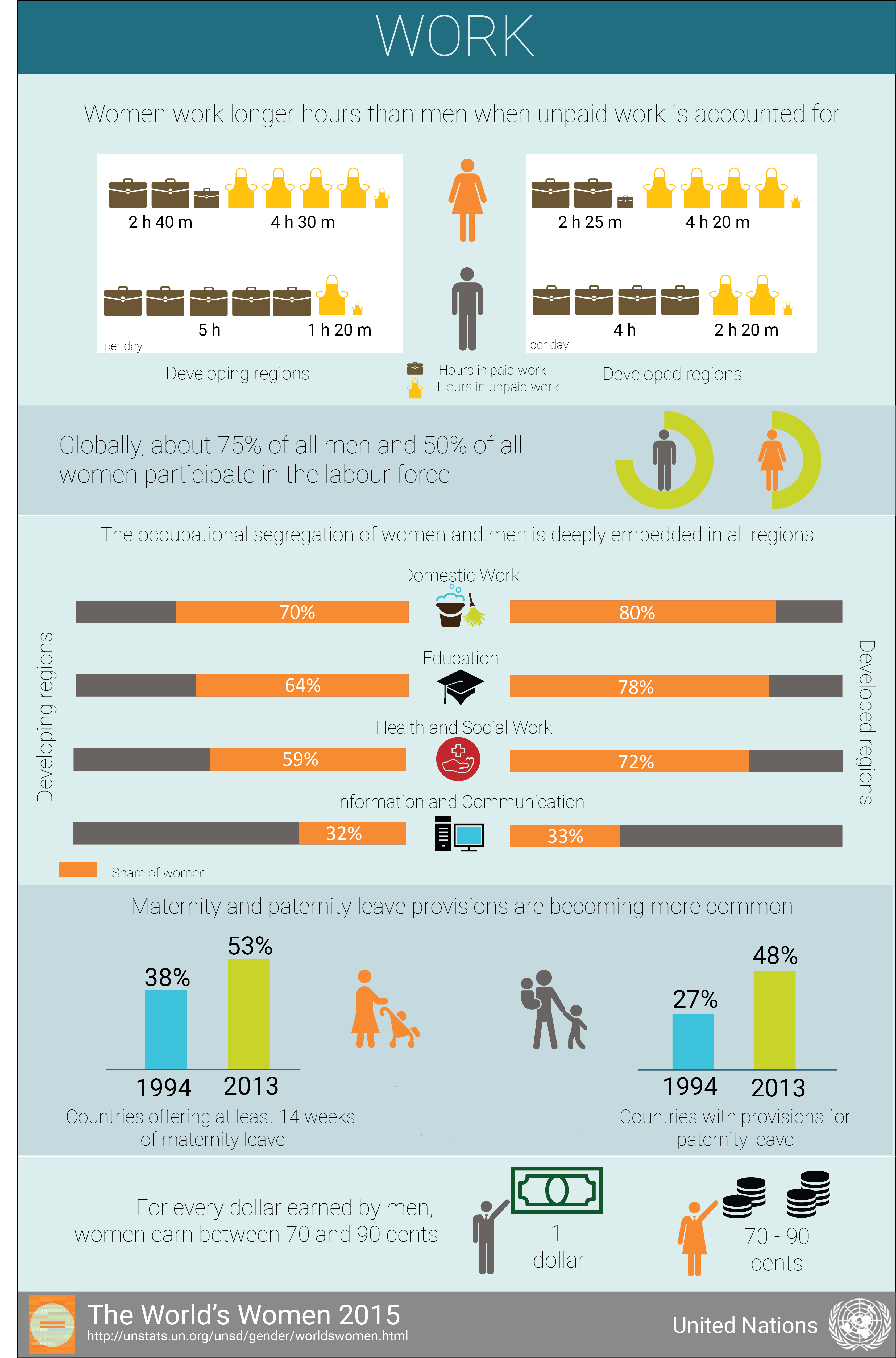 Only 50 per cent of women of working age are in the labour force, compared to 77 per cent of men. The gender gap in labour force participation remains especially large in Northern Africa, Western Asia and Southern Asia. Overall participation in the labour market is only slightly lower in 2015, compared to 1995. However, women and men aged 15 to 24 years have experienced a decline in participation, which is likely linked to expanding educational opportunities at the secondary and tertiary levels. Older women aged 25 to 54 increased their labour force participation in most regions, while that of men in the same age group stagnated or declined slightly across regions. The proportion of women aged 55 to 64 in the labour force has risen in most regions, reflecting changes in the statutory retirement age and pension reforms.
Women are more likely than men to be unemployed or to be contributing family workers, which usually implies that they have no access to monetary income. In Oceania, sub-Saharan Africa and Southern Asia, between 30 and 55 per cent of employed women are contributing family workers, about 20 percentage points higher than men in the same regions. Women are also more likely than men to be employed part-time. However, while this can help them to better balance work, household and childrearing responsibilities, part-time jobs are often associated with lower hourly wages, less job security and less training and promotion opportunities than full-time employment. Women are also significantly underrepresented in decision-making positions such as legislators, senior officials and managers, but are overrepresented as domestic workers, positions that are characterized by low pay, long hours and lack of social protection. Across all sectors and occupations, women on average earn less than men; in most countries, women in full-time jobs earn between 70 and 90 per cent of what men earn. Many developed countries show a long-term decline in the gender pay gap, but the trend is mixed in recent years.
Over the past 20 years, an increasing number of countries have adopted legislation providing maternity and paternity benefits, enabling workers to meet their responsibilities outside work. Over half of all countries currently offer at least 14 weeks of maternity leave and 48 per cent of countries have provisions for paternity leave. These measures, however, often exclude workers in specific sectors or categories of employment, such as paid domestic workers, own-account and contributing family workers, casual and temporary workers, and agricultural workers.