Tanzania
---
---
I. General on SDG monitoring set up
---
National SDG organizational set up
All issues of SDG data and coordination are in the purview of the National Bureau of Statistics (NBS) as the custodian and coordinator of official statistics in the National Statistical Systems (NSS). Monitoring and Evaluation is carried out by the Ministry of Finance and Planning (MoFP) department of National Development Plans (NPD).
National set of SDG indicators
Global SDG indicators have been domesticated. Proxy indicators have been developed for some indicators. SDG indicators have been mainstreamed into the National Five-Year Development Plan (FYDP II).
Overall, 240 SDGs indicators are potentially relevant to the Tanzania context (Refer to national SDG Data Roadmap; Lesson leant and Future recommendation report). 167 indicators were mapped either primary or secondary to the national development framework (FYDP II) while 73 indicators are unmapped with either national plans or sectors policies or strategies that are already being implemented. Among the 167 indicators, 96 indicators are primary mapped while 71 mapped secondary. An additional 73 indicators were deemed potentially relevant but were unmapped to national frameworks or strategies. A continuous dialogue is in place on the localization of these indicators. Of the 83 indicators mapped to FYDP II, 32 are exact matches with the global SDG indicators while the remaining 51 are proxies. Of the 84 indicators mapped to sector indicators, 64 are exact matches with the global SDG indicators while the remaining 20 are proxies.
There is a strong link between the general national strategies and implementation plans such as National Five Year Development Plan with global SDGs indicators as SDG were considered during the design of the plan.
The National Bureau of Statistics (NBS) conducted the SDG and FYDP II data gap assessment using the Advanced Data Planning Tool (ADAPT) and conducted different stakeholder thematic workshops to share and validate the results. The activity involved various actors including government, private sector, CSOs, DPs and UN agencies.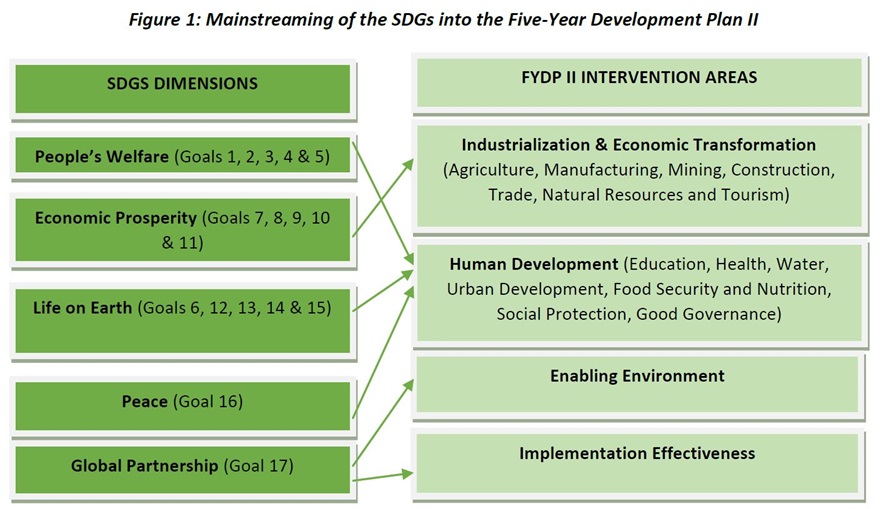 SDG reports and Voluntary National Reviews
The United Republic of Tanzania (URT) presented its Voluntary National Review (VNR) on the implementation of the Sustainable Development Goals (SDGs) before UNHLPF in New York in July 2019. The preparation of VNR was consultative, participatory, iterative, transparent, inclusive and objective engaging all segments in the country i.e. the Central Government, Private Sector, Civil Society Organizations, Parliament, Judiciary, Local Government Authorities, Research and Academic Institutions, Think Tanks, Groups that are likely to be marginalized and the UN System.
The report shows i) what steps the country has taken in implementing Agenda 2030 and SDGs; ii) track progress and assesses the results on the ground as reflected in the National Five Year Development Plan 2016/17-2020/21 (FYDP II) and Zanzibar Strategy for Growth and Reduction of Poverty (MKUZA III); iii) share experiences on various success stories, constraints and challenges faced in the implementation of SDGs (Refer to Tanzania VNR). Before the preparation of VNR, the country through the Ministry of Finance and Planning prepared the SDGs Baseline Report 2016 in order to benchmark the status of SDGs implementation. Also NBS produced a report on national data road map, lessons learnt and recommendations for future SDG implementation, monitoring and reporting. It also produces a report on SDG data gap assessment using ADAPT.
The Tanzania VNR report also constitutes a statistical Annex showing the mapping and indicators with data and statistics and with different disaggregation such as sex, location, age group etc.
---
---
https://tanzania.goaltracker.org/platform/tanzania

About the SDG Goal Tracker platform
The Goal Tracker platform is relevant for SDG reporting. The first phase of the SDG Goal Tracker dissemination platform is now available online: https://tanzania.goaltracker.org/platform/tanzania. NBS in collaboration with Data Act Lab (DAL) and Hammarskjöld Foundation from Sweden are developing and maintaining the portal. Sectoral agencies are being consulted to validate the platform before putting it online. NBS is also planning to integrate the portal with existing portal such as Tanzania Social Economic Database (TSED) and other MDAs and LGAs portals.
Several indicators and their data have been uploaded in the portal in CSV format and structured in DDF data points. Also SDG related policy documents have been uploaded in the portal. This include National Five Year Development Plan 2016/17-2020/21 (FYDP II), FYDP II M & E Strategy, Zanzibar Strategy for Growth and Reduction of Poverty (MKUZA III), MKUZA III M & E Strategy, VNR report and its Key messages and other sectoral policy documents.
NBS is working on populating the portal including metadata development in its second phase. The second phase of the goal track platform will include SDMX for metadata exchange.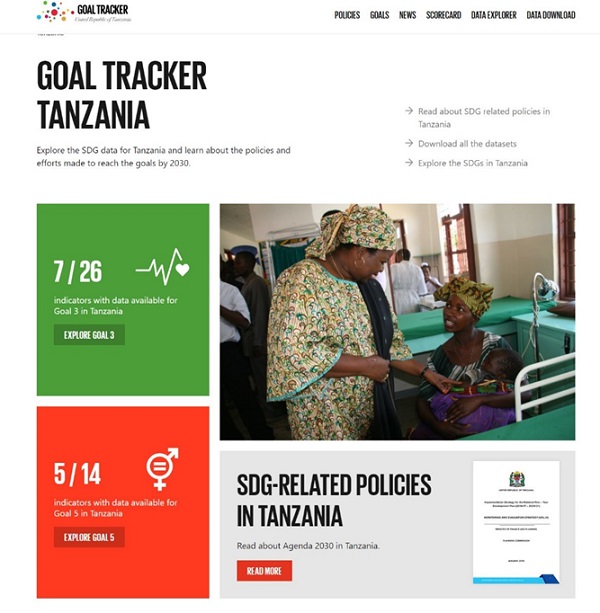 ---
---
Overall coordination of National Statistical System
NBS is tasked with coordinating the National Statistical System (NSS). The New National Strategy for the Development of Statistics (NSDS) called Tanzania Statistical Master Plan (TSMP) is being developed, which include SDGs. The Plan focuses on strengthening administrative data production within and outside the NSS. The TSMP II focused on the following components:
Development of the data system at MDA's, and at the regional level- production of routine data at those levels
Data development and data dissemination- implementation of the Survey Calendar,
Institutional and Human capacity developments for a stronger National Statistics System in the country,
Physical infrastructure- build four regional offices in the following regions; Geita, Lindi, Pemba and Manyara. All these are areas that are required to be implemented in the TSMP Phase II. Strengthening communication, dissemination and access to official statistics;
Physical Infrastructure and Equipment and Overall strengthening communication, dissemination and access to official statistics;
SDG data coordination committees
An Interim Steering Committee was established in 2016, charged with the oversee the implementation of SDG data roadmap. The Committee was composed of representatives of the government, international agencies, private sector, research institutions, and academia. The Interim Steering Committee continued to work for some time in support of the implementation of the data roadmap which it ceased to function.
Following the preparation and presentation of VNR, Ministry of Finance and Planning is developing the National Coordination Framework for Implementation, Monitoring and Reporting of Sustainable Development Goals (It is in progress). Also, a National Coordination Taskforce for Sustainable Development with representative from different sectors has been established. The task force among other responsibilities responsible in the preparation of VNR includes data coordination.
Responsibility for SDG indicator compilation
Indicators have been mapped/assigned to specific data producers. Information is available in the ADAPT tool. The decision has not been done on which agency should share certain information; this work is among the plan on board. The sharing of statistical information is done through the NBS website including TSED database, emails, and different reports and upon any request. Also, there is a sharing arrangement with Tanzania Revenue Authority (TRA).
2015 Statistics Act mandates the NBS to coordinate the NSS. NBS provides QA to the MDAs. MDAs are legally obligated to provide data to the NBS, which is mandated to establish a National Data Bank (not in place yet).
NBS is mandated by by Statistics Act 2015 and its amendments in 2018 and 2019 as an overall coordinator of national statistical system, advise Government and the public at large on all matters related to official statistics, set standards and collect, compile, analyse, publish and disseminates official data.
Actual data sharing mechanisms
Data is shared by email, mostly soft copy. Data sharing mechanisms have been established with some agencies, notably the Tanzania Revenue Authority and Bank of Tanzania (BOT).
Open data (Basic Statistics Portal)
Tanzania Basic Statistics Portal is hosted by the e-Government of Tanzania and NBS. The portal provides basic statistics for several sectors including education, health, water and other survey data produced by NBS. Preliminary training conducted for agriculture and transport sector. The steps are to expand the portal to provide information to other sectors of the economy.
---
IV. Data availability and disaggregation
---
Work to make more indicators available The NSDS being developed focuses on admin and other non-traditional data sources to improve indicator availability.
Work to allow more disaggregation
Migrations, Youth are focus areas where NBS is working to improve disaggregation, including survey design and administrative data collection.
---
---
NBS is working with UNSD on NQAF; draft concept note has been developed and shared with the AUC.
---
---
A User Engagement strategy will be developed with the assistance of the UNSD-DFID Project.
The following activities are planned in the area of user engagement:
Identify key users of SDG indicators, ensuring that key groups such as the government, academia, and civil society are all represented.
Draft a user engagement strategy.
Working with the key users,
Identify their needs in relation to the dissemination of SDG indicators, particularly the National Dissemination and Reporting Platform.
Develop a plan to address the user needs.
---