A wide range of partners — from governments, the private sector, civil society, the UN system, and the scientific and academic communities — collaborate in the organization of the United Nations World Data Forum.
A Programme Committee, composed of experts and leaders from diverse stakeholder groups, is responsible for guiding the design of the Forum's sessions across the six thematic areas.
The Programme Committee is composed of the following members: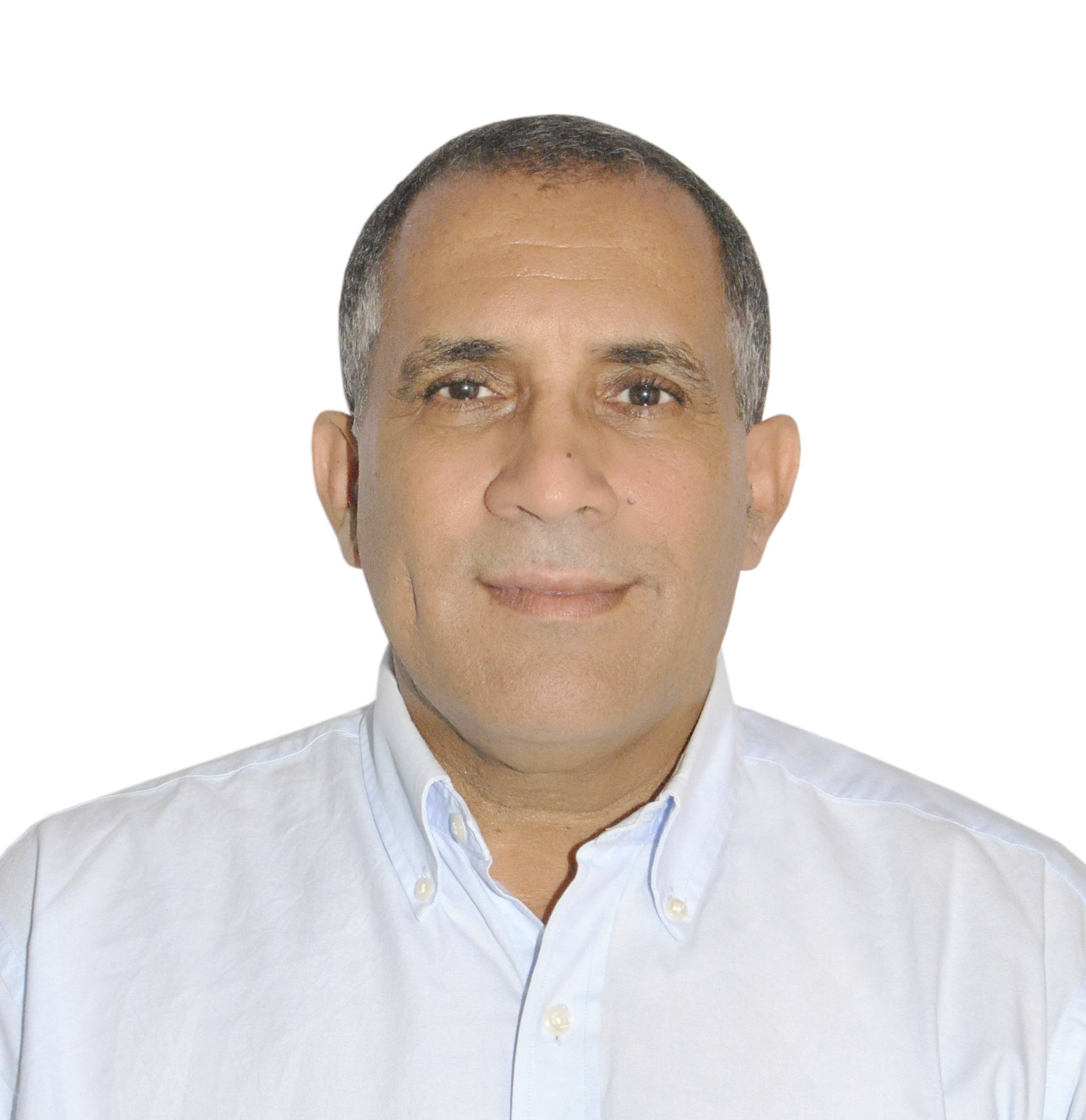 Belkacem Abdous
---
Dr. Belkacem Abdous is Director of Statistics Directorate at the High Commission for Planning (HCP). After spending over 25 years working as a full professor of statistics/biostatistics at Laval University and the Université du Québec à Trois-Rivières, Québec, Canada, Belkacem joined the HCP in 2015, where he is strongly involved in the production of official statistics in Morocco together with various national and international statistical activities and projects. .
Between 2015 and 2017, as a chair of the Local Program Committee and a member of the Scientific Program Committee, Belkacem oversaw the local organization of the 61st World Statistics Congress, Marrakech, 16-21 July, 2017.
Throughout his career, Belkacem published over 130 scientific papers and has been a researcher at the Montreal Mathematic Research Centre, a member of the Statistical Society of Canada, the Institute of Mathematical Statistics (IMS) and the International Statistical Institute (ISI).
Belkacem holds a Ph.D. in Statistics from Laval University, Canada and a Doctoral Thesis (Thèse de 3ème cycle) in Applied Mathematics from Lille I University, France.
---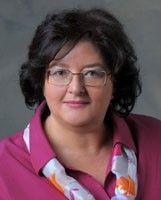 Gabriella Vukovich
---
Dr. Gabriella Vukovich holds a doctorate degree from the Faculty of Law at the Eötvös Loránd University in Budapest. She was appointed to the post of President of the Hungarian Central Statistical Office in 2010, and since 2017 she also serves as Chief Statistician of Hungary. Prior to her appointment as President, she was a consultant in Social Statistics and Demography. Between 1998 and 2004 she was Vice-President of the HCSO, and before that she was the director of the Census Department. She trained as a demographer in the Demographic Research Institute of the HCSO, where she carried out research on population ageing, families and households. She also worked as a demographer at the Population Activities Unit of the United Nations Economic Commission for Europe in Geneva and as a Population and Development specialist at the Population Division of the United Nations in New York. She chairs the Editorial Board of the journal Statisztikai Szemle (Statistical Review).
She holds an Honorary doctorate "Doctor honoris causa," an Honorary professor title from the University of Miskolc and an Honorary Professor title from the National University of Public Service in Hungary. Between 2005 and 2010, she lectured on Demography and Social Statistics at the Budapest University of Technology and Economics. In recognition of her achievements in statistical training, promoting statistical literacy and official statistics development, she was awarded the Commemorative medal "Pro Universitate Hungariae Occidentalis" by the University of West Hungary and the Commemorative Medal "Pro Facultate" by the Faculty of Economics of Corvinus University in Budapest. She is Member of the Advisory Board of the Budapest Business School – University of Applied Sciences. She was elected Chair of the UN European Population Conference in 1998, and Vice-Chair of the 21st Special Session of the UN General Assembly in 1999. She was member of the board of the Siena Group on Social Statistics from 2002 to 2004, and member of the board of the "Generations and Gender" research programme of the UN from 1998 to 2004.
From 2012 to 2013 she became Chair of the United Nations Statistical Commission. In 2014 she was the Acting Chair of the UNSC. She was elected Co-chair of the UN High-level Group for Partnership, Coordination and Capacity-Building for the 2030 Sustainable Development Agenda in 2015.She is member of IAOS and individual member of ISI. She was elected as member of the Council of ISI for the period 2017-2021.
---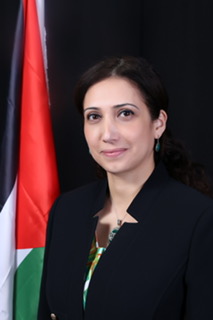 Ola Awad
---
President of the Palestinian Central Bureau of Statistics (PCBS) and Former President of the International Association of Official Statistics (IAOS) for the years 2015 -2017.
Dr. Ola Awad is an active chief statistician in a number of national, regional and international agencies. Internationally, she is currently a council member in the International Statistical Institute (ISI) for the years (2017-2019). She represents the Arab region in the High-level group for Partnership, Coordination and Capacity-building for Statistics for the 2030 Agenda for Sustainable Development (HLG-PCCB) . She is a permanent member of the Women's Committee of the International Statistics Institute (ISI) in addition to her membership in the ASPEN's Middle Leadership Initiative. Regionally, she is a Board member of the Statistical, Economic and Social Research and Training Center for Islamic Countries, member of the international advisory committee of Abu Dhabi Statistics Center (SCAD), member of the Board of Trustees of the Arab Institute for Research and Training in Statistics, member of the Board of Directors of the Union of Arab Statisticians, member of the Permanent Executive Committee of Statistics in the Secretariat General of the Arab League.
She holds a Doctorate of Business Administration (DBA) from the University of Liverpool – UK, MA in Applied Statistics from Birzeit University, and MA in Business Administration and Management from Boston University and a BA in Economics from Birzeit University.
---
Shaida Badiee
---
Shaida Badieeis managing director of Open Data Watch, an NGO focused on monitoring and promoting open data in national statistical offices. She has been an active member of the UN Secretary General's advisory group on data revolution, co-chairs the Sustainable Development Solutions Network (SDSN) Data Network, and has played a key role with the startup of the Global Partnership for Sustainable Development Data. As senior advisor, Shaida works closely with the Data2X team focused on knowledge creation and advocacy for closing gender data gaps. She brings 36 years of experience in managing global development statistics at the World Bank and the long-time Director of the Development Data Group. During her tenure, flagship global
statistical products were launched such as the World Development Indicators, Global Development Finance, and the Atlas of Global Development. In 2010, she led the World Bank's Open Data Initiative, a ground-breaking program to provide full and free access to the World Bank's extensive statistical databases. Prior to that, she played a key role in the creation and operation of PARIS21 as well as leading international efforts to coordinate technical and financial support for statistics through initiatives like the Marrakech Action Plan.
---
Debapriya Bhattacharya
---
Dr. Debapriya Bhattacharya, a macroeconomist and public policy analyst, is a Distinguished Fellow at the Centre for Policy Dialogue (CPD), Dhaka. He was the Ambassador and Permanent Representative of Bangladesh to WTO and UN Offices in Geneva and Vienna; former Special Advisor on LDCs to the Secretary General of UNCTAD; first Executive Director of CPD. Dr. Deb Bhattacharya serves in the boards and working groups of various leading institutions (including BRAC International), and editorial boards of reputed journals (including Oxford Development Studies). His recent edited book is Southern Perspectives on the Post-2015 International Development Agenda, Routledge, London (2017). He has studied in Dhaka, Moscow and Oxford; visiting positions held include Senior Fulbright Fellow at the Centre for Global Development (CGD), Washington DC.
Dr. Deb Bhattacharya chairs the Southern Voice on Post-MDGs network – a partnership of 49 think tanks from Africa, Asia and Latin America. He led the pioneering multi-country study viz. Post-2015 Data Test that identified data gaps for SDG implementation, and prepared Data Action Plans for seven sample countries from four continents. Southern Voice, as an Anchor Partner, adds value to the activities of GPSDD. The network extends unique perspectives on global debates concerning data challenges in ensuring development effectiveness, and has played a prominent role at the First World Data Forum in Cape Town (January 2017).
---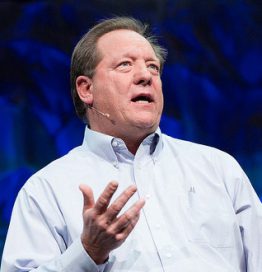 Clint Brown
---
Since 1983, Clint Brown has been responsible for managing all Esri product releases in use today in hundreds of thousands of organizations worldwide. He manages a division of hundreds of GIS analysts, app programmers, writers, and test analysts.
He is especially passionate about defining and capturing GIS methods, best practices, and key concepts. Most of them recognize that GIS provides the foundation for implementing the Global goals worldwide for all initiatives. Most recently, the explosion of Web GIS is generating huge opportunities for how GIS can be applied collaboratively for SDG's across all nations, organizations, and communities.
---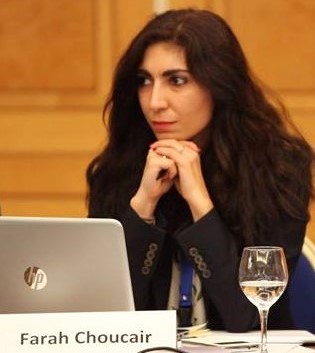 Farah Choucair
---
Farah Choucair is the Project Manager of the Arab Development Portal, a joint initiative between the UNDP – Regional Bureau for Arab States and the Coordination Group of Arab, National and Regional Development Institutions (CG), the OPEC Fund for International Development and the Islamic Development Bank. She has been managing the Portal since its inception phase and has led its conceptualization and development since 2012. The Portal currently acts a mediator between data producers and data users with the aim to encourage the consumption of official statistics in the Arab region as a mean to enhance informed public debate around development issues.
Mrs. Choucair has also led the development of the first regional SDGs tracking tool. An economist by training with an MSc in Development Economics from the School of Oriental and African Studies -University of London, Mrs. Choucair has more than twelve years of experience working with leading research centers and development agencies. She has been affiliated with UNDP since 2010 working on different projects related to economics, governance and social cohesion. She has also served as a technical advisor to the Lebanese Minister of Finance.
---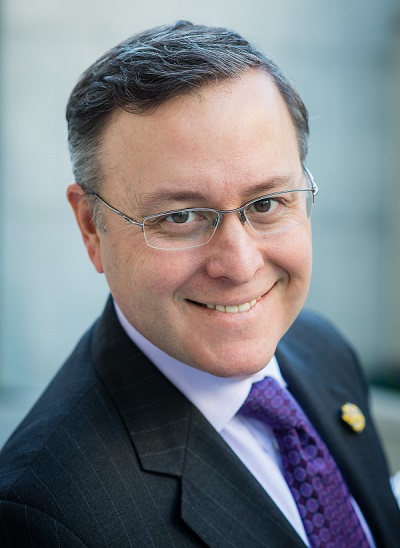 Richard Crespin
---
The relative usefulness of data is often directly proportional to the number of relevant people who actively use it. Data that remains trapped, used by only a few people often has limited impact. As CEO of CollaborateUp, a boutique consulting firm advising businesses and non-profits on how to work together to solve big problems, Richard Crespin works with his clients to effectively use data and structure outcome-oriented multi-stakeholder partnerships that amplify impact and get results faster at lower cost.
CollaborateUp uses data and collaboration to amplify impact among diverse partners, including governments, foundations, and private sector actors, to address the pressing challenges and issues that face our society.
---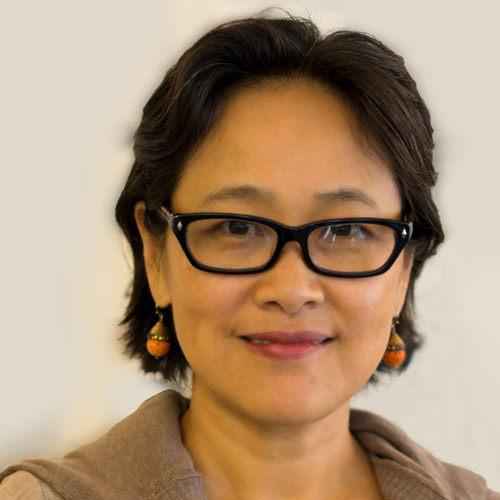 Haishan Fu
---
Haishan Fu is the Director of the World Bank's Development Data Group, overseeing its global development monitoring and open data initiative, surveys and other technical advisory services, and global statistical programs such as the International Comparison Program. In her capacity as the Ex-Officio member of the WBG Data Council and the Co-Chair of the Development Data Directors Group, Ms. Fu leads and coordinates the development and implementation of the Bank's development data agenda. She has been an active leader in the global statistical community, having served or currently serving as a member of the UN Secretary General's Independent Expert Advisory Group on Data Revolution for Sustainable Development, Council Member of the International Statistical Institute, and Co-Chair of the Global Steering Committee of the Global Strategy to Improve Agricultural and Rural Statistics, among others.
Ms. Fu holds a Ph.D. in Demography from Princeton University and a B.A. in Economics from Peking University.
---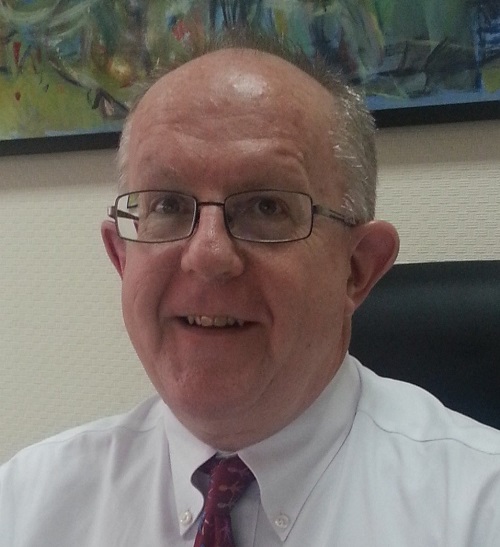 Mark Hereward
---
Mark Hereward is Associate Director for Data & Analytics for UNICEF, leading a team who support collection, assessment, storage, analysis and communication of data concerning the situation of children. Data collection includes the Multiple-Indicator Cluster Survey programme which has been running for 20 years, as well as harvesting data from other surveys, administrative and other sources. The data are published on the UNICEF website, in the tables of State of the World's Children report, and are used in analytical reports. The section also assesses data on the seventeen SDG indicators for which UNICEF is joint or single custodian, to give internationally-comparable high-quality data on SDG reporting, stores them and transmits them to Statistics Division for the global SDG progress reports. And he oversees the work to support UNICEF's 130 Country Offices in their efforts to build capacity and provide technical assistance to government and civil society on monitoring the situation of children.
---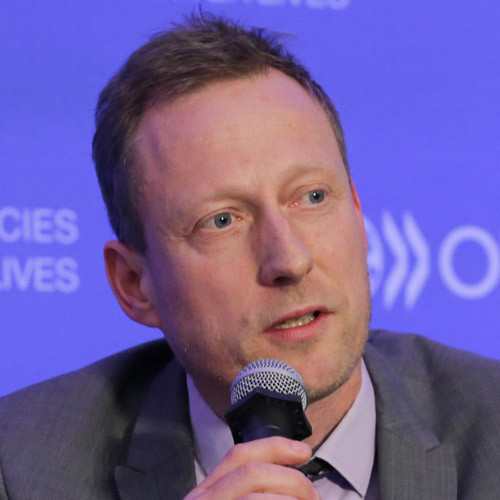 Johannes Jütting
---
Johannes Jütting is Manager of the Partnership in Statistics for Development in the 21st Century (PARIS21). He leads the partnership's work in strengthening national statistical systems, promoting the integration of statistics and reliable data in the decision-making process and advocating for countries as crucial actors in the global development agenda. Mr Jütting holds a Ph.D. in Development and Agriculture Economics from Humboldt-University and regularly publishes about issues relating to data, statistics, development and the SDGs in the Huffington Post.
---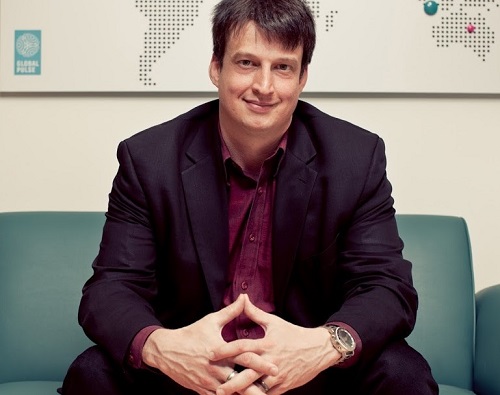 Robert Kirkpatrick
---
Robert Kirkpatrick is Director of UN Global Pulse, an innovation initiative of the Secretary-General, harnessing big data and artificial intelligence for sustainable development and humanitarian action. Since 2010, Robert has directed a network of Pulse Labs in Jakarta, Kampala, and New York, developing real-time and predict analytics solutions to strengthen decision making in public sector institutions and guiding policy reform to ensure responsible use of big data for the public good. Robert was the founding CTO of the Silicon Valley global health and disaster technology NGO InSTEDD, and the co-founder of Microsoft Humanitarian Systems. He has spent more than 20 years developing technology solutions for public and private sector organizations, with a focus on catalyzing organizational change.
---
Irena Križman
---
Irena Križman is a co-chair of the ISI Statistical Capacity Building Committee. She served 2013-2017 as a Vice President of the ISI. Before retirement in 2013 she was the Director-General of the Statistical Office of the Republic Slovenia (SURS, from 2003-2013). Under her leadership of SURS, Slovenia has developed a modern statistical system based on secondary sources and harmonised with the EU, Euro Area and OECD requirements. In 2011 SURS conducted the first completely register based population census. She has been very active internationally and, among other numerous international activities, she is one of the founders of High-level Group on Modernisation in Statistics. Ms. Križman holds an M.S. in Management of non-profit organizations and B. Sc. in Sociology from University of Ljubljana, Slovenia. She was a member of the Programme Committee of the 1st UN World Data Forum.
---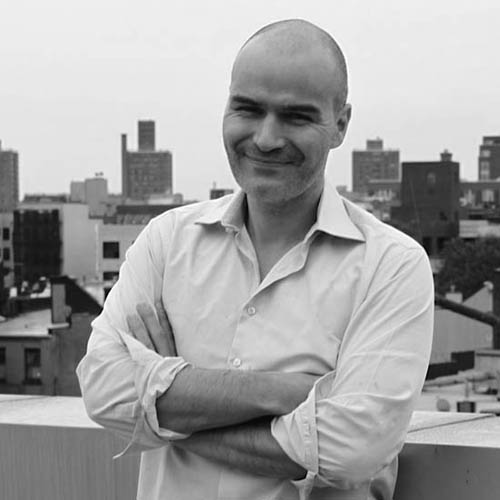 Emmanuel Letouzé
---
Dr. Emmanuel Letouzé is the Director and co-Founder of Data-Pop Alliance, a coalition on Big Data and development created in 2013 by the Media Lab, the Harvard Humanitarian Initiative, and the Overseas Development Institute, joined in 2016 by Flowminder. He is a Visiting Scholar at MIT Media Lab, has co-founded and serves a Program Director of the Open Algorithms (OPAL) project, and served on the Program Committee of the first UN World Data Forum. He wrote UN Global Pulse's White Paper "Big Data for Development" (2012) and has since then worked on the applications and implications of data and technology for development and democracy, especially related to official statistics, poverty, demography, crime, violence, privacy and ethics. Dr. Letouzé worked as a Development Economist for UNDP in New York from 2006-09 on fiscal policy, post-conflict economic recovery and migration, and in 2000-04 as a technical assistant in public finance and official statistics for the French Ministry of Finance in Hanoi, Vietnam.
He holds a BA in Political Science and an MA in Economic Demography from Sciences Po Paris, an MA in International Affairs specialized in Economic Development from Columbia University, where he was a Fulbright Fellow, and a PhD in Demography from UC Berkeley, where his dissertation focused on the use of cell-phone data for demo-economic research and development. He is also a political cartoonist as 'Manu', and an invited member of The Cartoon Movement.
---
Sultan Mohammed Alya
---
Sultan Mohammed Alya graduated from the Addis Abeba University with a BSc. Degree in Electrical Engineering in Oct. 1976. He attended Cranfield University (191 – 1992) in England, U.K., and graduated with MSc degree in Manufacturing Systems Engineering. Furthermore, he attended the Cranfield University Executive Program in Defence Management (2003 – 2007) and graduated with a Master of Defence Administration (MDA) Degree.Prior to his appointment in February 2008 to his current position of Director General of the Ethiopian Mapping Agency, he had served in a number of senior government positions including the position of Vice Minister (Sep. 2003 – Oct. 2005) and State Minister (Oct. 2005 – Feb. 2008) of the Ministry of National Defence of FDRE. He is the current Chairman of the Executive Board UN-GGIM: Africa.
---
Nnenna Nwakanma
---
Nnenna Nwakanma advocates for open data, open government and the open web across Africa, bringing together local and international stakeholders to advance the open agenda. She works to drive forward the Africa Data Consensus, the Africa Open Data Network, the Africa Open Data Conference and the African Declaration on Internet Rights and Freedoms. She represents the Web Foundation at a number of international fora, including the Global Partnership for Sustainable Development Data.
Recently, she pioneered the Foundation's first gender data project – TechMousso, which brought together the data and tech communities with women's rights organisations to tackle gender challenges in Côte d'Ivoire.
Her career has allowed her to work closely with many civil society organisations, the African Development Bank, the Digital Solidarity Fund and has seen her involved in many phases of the UN's Africa Information Society Initiative. As well as leading a highly regarded consultancy platform, Nnenna has in recent years co-founded The Free Software and Open Source Foundation for Africa, and served as a board member of the Open Source Initiative. She has lived and worked in five African countries and is fluent in English, French and a number of African languages.
---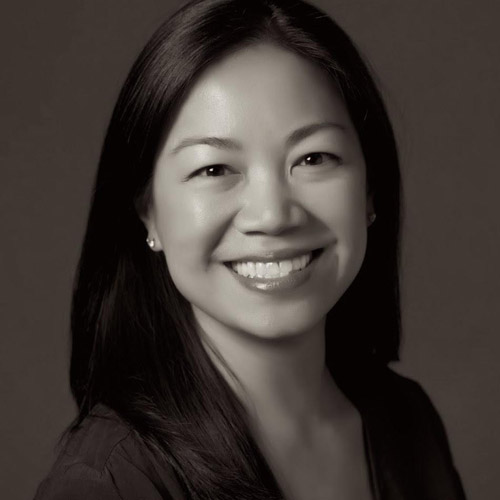 Minh-Thu Pham
---
Minh-Thu Pham is Executive Director for Policy at the United Nations Foundation, where she develops and leads strategic initiatives to strengthen the UN's ability to solve global problems and brings together governments, civil society and thought leaders to help reach global agreements. Over the last four years, she has led UNF's effort to support the creation of the Sustainable Development Goals (SDGs). She recently taught international policymaking at Princeton's Woodrow Wilson School and has over 15 years of experience in foreign policy, international diplomacy, and fieldwork.
Ms. Pham served in the Executive Office of the Secretary-General for Kofi Annan and Ban Ki-moon as policy adviser in the Strategic Planning Unit, leading initiatives to strengthen the UN and improve relations between the U.S. and the UN. Ms. Pham has high-level experience delivering the MDGs, implementing the peace accord in Bosnia and advancing refugee and humanitarian causes in Ethiopia, Vietnam and Washington, DC. She has a background in documentary work and was once a crew photographer for the BBC series Planet Earth. Ms. Pham holds an MPA from the Woodrow Wilson School at Princeton University and a BA in History from Duke University. She was born in Vietnam and lives in New York City.
---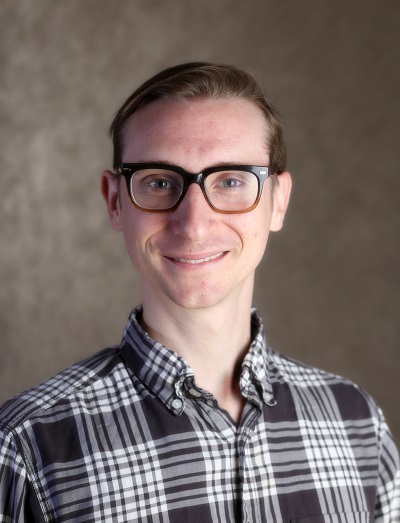 Jake Porway
---
A pioneer of the Data for Good movement, Jake Porway is an expert in the field of data and technology. As Founder and Executive Director of DataKind, a global nonprofit dedicated to using data science and AI in the service of humanity, he has spent nearly a decade working alongside the nonprofit community to drive social change with the power of data science. Jake's career spans more than 10 years in the data science sector as a statistician and computer scientist. He has worked as a data scientist for the New York Times R&D Lab and was a research scientist studying machine learning and probabilistic modeling tasks with NASA, the Office of Naval Research and other government agencies. A PopTech Social Innovation Fellow and a National Geographic Emerging Explorer, Jake was also noted as one of LinkedIn's Next Wave Top Professionals 35 & Under in 2017 and his efforts have led to DataKind being named one of Fast Company's Top 10 Most Innovative Nonprofits for 2017.
He holds a B.S. in Computer Science from Columbia University and an M.S. and Ph.D. in Statistics from UCLA.
---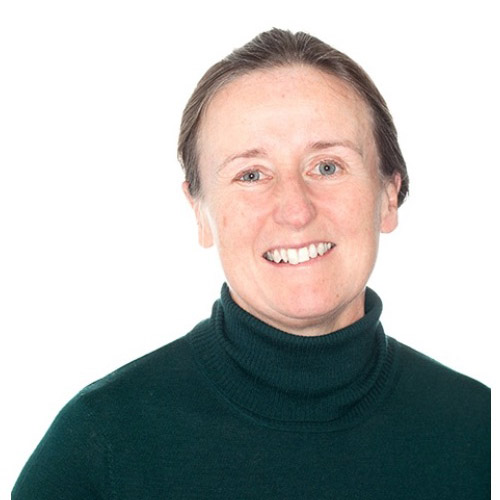 Judith Randel
---
Judith Randel is the Co-Founder of Development Initiatives, an independent organisation set up to use data and information to end poverty. All her work is done together with DI Co-Founder, Tony German and includes the Reality of Aid reports from 1992 – 2000, the Global Humanitarian Assistance Reports from 2000 to date, Investments to End Poverty 2013 and the data used to monitor G8 commitments. She is currently working on the P20 Initiative: data to leave no one behind, focused on data on progress for the people in the poorest 20% of the global population. DI has a major programme of work on transparency and access to information, including the establishment of the International Aid Transparency Initiative. Currently DI is working on a number of data initiatives at local, national and global levels. These include work on interoperability, data standards, joined up data and tracking the SDGs at local level.
Ms. Randel has a distinguished Masters from the University of Bath and is on the Council for the Institute of Development Studies; she was part of the Chronic Poverty Research Centre for ten years, served on the Africa Partnership Initiative, DAC Expert Panel on the future of ODA, the Global Nutrition Report .
---
Juraj Riecan
---
Dr. Juraj Riecan currently works as the Director of the Statistics Division at the United Nations Economic and Social Commission for Western Asia that he joined in January 2009. In this capacity he is primarily responsible for managing the UNESCWA's programme of assisting countries of the Arab region in developing capacity of their statistical systems. He also leads UN-ESCWA's efforts on collection and dissemination of statistical data about the region.
Dr. Riecan worked previously in various positions at the United Nations Economic Commission for Europe on various statistical topics including macroeconomic statistics, population and housing censuses and migration statistics. The primary focus of his work was on statistical infrastructure including data and metadata models, data quality, data dissemination and communication, use of administrative registers and records for statistical purposes and related fields. The academic career of Mr. Riecan focused on mathematical statistics and notably on regression models applied in biology, medical research and mechanical engineering.
Dr. Riecan holds a PhD in Mathematical Statistics, his thesis focused on applications of the Kolmogorov Consistency Theorem.
---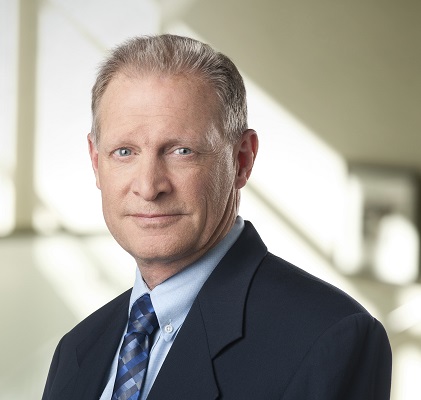 Vince Seaman
---
Dr. Vince Seaman currently works at the Bill & Melinda Gates Foundation in Seattle, Washington, where he is the Interim Deputy Director for the Strategy, Data and Analytics team. In that role, he supports the use of geospatial data, analytics and technology to enable better decision-making and more effective interventions in the global development community. Prior to joining the Gates Foundation, Dr. Seaman spent 7 years at the U.S. Centers for Disease Control (CDC), and was detailed to Nigeria for three years as a secondee to the World Health Organization, supporting polio and other vaccine-preventable disease programs.
Vince completed his MS and PhD in Pharmacology and Toxicology at the University of California, Davis in 2006, after spending 15 years practicing as a licensed pharmacist and 8 years as a public high school science teacher in California.
---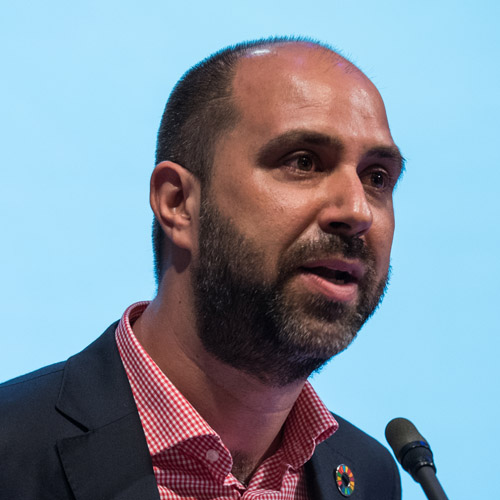 Philipp Schönrock
---
Philipp Schönrock is the Director of CEPEI, an independent, non-profit, data driven think tank, working through field based analysis and high-level advocacy to scale up the participation of Latin America and the Caribbean within the global development agendas. For two years he was Co-Chairman of the Beyond 2015 campaign, a civil society global initiative for the negotiation of the 2030 Agenda. Currently, he is a member of the GPSDD and Together 2030 Boards. Mr. Schönrock represents CEPEI as a member of the Colombian Confederation of NGOs Board.
---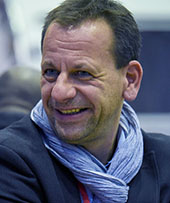 Thomas Wollnik
---
Thomas Wollnik is Head of the Programme "Partners for Review" (P4R).
P4R is a programme commissioned by the German Government with the overall aim to support the SDG follow-up and review process on a global as well on a national level. P4R is particularly aimed to provide a space and an exchange forum to providing exchange and mutual learning for setting up structures and mechanisms for informed SDG review procedures and processes.
Thomas Wollnik has been working for German Development Cooperation (GIZ) since 1999. He was firstly Programme Manager and then from 2005 – 2011 Director of the former "Munich Centre for Statistics", which was specifically focusing on statistical capacity building.
After having served German Development Cooperation within GIZ in different positions in Germany and abroad, in particular for some years in southern Africa in between 2012 and 2015, he became Head of the Programme P4R in 2016.
---
UNSD, Secretariat (ex-officio)
United Arab Emirates, Host Country (ex-officio)