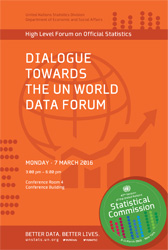 High Level Forum on Official Statistics
Dialogue towards the UN World Data Forum
Tuesday, 7 MAR 2016
3:00 – 6:00pm
Conference Room 4
Meeting organized by the United Nations Statistics Division (UNSD)
The webcast recording of this event is available here
As part of the programme of events at the Statistical Commission, this year's High-level Forum on Official Statistics will take place on Monday, 7 March 2016, from 3pm to 6pm.
The High-level Forum on Official Statistics will provide an opportunity for the official statistics community to engage and exchange ideas with prominent representatives from governments, international organizations, academia, civil society and other stakeholders, in preparation of the upcoming UN World Data Forum, to be held later this year under the auspices of the Statistical Commission.
The organization of a UN World Data Forum was one of the main recommendations of the Secretary-General's Independent Expert and Advisory Group on Data Revolution for Sustainable Development, and was recognized as a suitable platform for intensifying cooperation on data for sustainable development with multiple stakeholders, including information technology professional, geospatial information managers, data scientists, data users, as well as members from civil society.
List of speakers

Panel 1: Policy dialogue on data needs and priorities
for the imiplementation of the 2030 Agenda

Moderator:

Mr. José Rosero,

Executive Director,

National Institute of Statistics and Census of Ecuador (INEC)

Speakers:

H.E. Ms. Irene Susan B. Natividad,

Deputy Permanent Representative and Charge d'Affaires,

Permanent Mission of The Philippines to the United Nations

H.E. Mr. Juan Sandoval-Mendiolea,

Deputy Permanent Representative of Mexico to the United Nations

Mr. Lenni Montiel,

Assistant Secretary-General for Economic Development,

UN Department of Economic and Social Affairs

Ms. Carmen Barroso,

Director,

International Planned Parenthood Federation, Western Hemisphere Region (IPPF/WHR)

Panel 2: Partnerships, innovative approaches and solutions
from data experts and data producers

Moderator:

Ms. Gabriella Vukovich,

President,

Hungarian Central Statistical Office

Speakers:

Mr. Ted Bailey,

Chief Executive Officer, Founder and Chairman,

Dataminr

Mr. Robert S. Chen,

Director,

Center for International Earth Science Information Network (CIESIN),The Earth Institute, Columbia University

Mr. Kumar Navulur,

Director of Next Generation Products in Labs,

DigitalGlobe

Ms. Judith Randel,

Co-founder and Executive Director,

Development Initiatives
Up-coming session
49th session (2018)
The 49th Session of the Commission will be held in New York from 6‐9 March 2018.
Current activities
Archive