6. Working Group on Training Courses in Toponymy
Convenor
Mr. Peder Gammeltoft (Denmark), E-mail: gammelt@hum.ku.dk
Ongoing work programme
The Working Group coordinates information on toponymy training courses, and where required assists in the planning and delivery of international courses organized by a host country or UNGEGN Division.
Training courses offered
2015: Tunisia
2012: Indonesia
2010: Cameroon
2009, Kenya (in conjunction with the 25th UNGEGN in Nairobi)
2008: Burkina Faso and Romania
2007: Tunisia
2006: Austria (in conjunction with the 23rd UNGEGN in Vienna); Mozambique
2005: Indonesia
2004: Australia and Mozambique
2003: Sudan; Algeria
2002: Netherlands-Germany (in conjunction with the Eighth United National Conference on the Standardization of Geographical Names in Berlin
Web-based training
Web-based training has the potential to provide instructional material to a wider audience than can be reached through the courses offered in different regions of the world. At present the following web-based training in toponymic issues are available: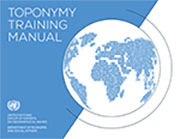 A workshop about training courses on the web was given in association with the Ninth UN Conference, New York, 2007.
Reports of the Working Group
Website
The Working Group's website is accessible at http://toponymycourses.geog.uu.nl/. It provides information on the Working Group, on forthcoming and past courses, and on teaching material used in toponymy courses and for other purposes.
Information is also provided on the Working Group website regarding training courses offered by the Pan American Institute of Geography and History (PAIGH).