March 2018
International Recommendations for Energy Statistics
The United Nations Statistical Commission, at its forty-second session held in New York, 22 to 25 February 2011, adopted the International Recommendations for Energy Statistics (IRES).
2018 publication
(English)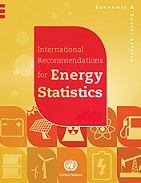 The International Recommendations for Energy Statistics provide data compilers with a complete set of recommendations covering all aspects of the statistical production process framework, from basic concepts, definitions and classifications to data sources, data compilation strategies, energy balances, data quality and statistical dissemination.
IRES was prepared by UNSD in close cooperation with the Oslo Group on Energy Statistics and the Intersecretariat Working Group on Energy Statistics (InterEnerStat). Consultations with specific groups of experts took place during the preparation process, such as the Committee of Experts on Environmental-Economic Accounting, the Expert Group on International Economic and Social Classifications and the London Group on Environmental Accounting. The unofficial Arabic translation has been provided by the Economic and Social Commission for Western Asia. It is based on an earlier draft and should be used with caution.
(unofficial Arabic translation)

More information on the preparation process can be found here.
With the adoption of IRES by the United Nations Statistical Commission, UNSD started the preparation of the Energy Statistics Compilers Manual (ESCM), which will contain further and more detailed explanations of the recommendations and provide practical guidance for compilers of energy statistics, balances and accounts.