Tanzania Launches Preparation for the 2012 Population and Housing Census
On 23 rd February 2008, Tanzania officially launched the preparations for its fifth post-independence census scheduled for 2012. The occasion was officiated by the Vice President of the United Republic of Tanzania, Dr. Ali Mohamed Shein and was also attended by UNFPA Executive Director and Under Secretary of United Nations Ms. Obaid Thoraya.
In his opening address, the Vice President, Dr Ali Mohamed Shein, said data from the next census will play a major role not only for future development planning but also for the evaluation and monitoring of various developments related programmes such as the National Strategy for Growth and Reduction of Poverty. "It is through the national census that we can precisely evaluate implementation of Millennium Development Goals (MDGS) and other related development programmes and this can only succeed if we have in place viable and accurate information," remarked Dr Shein. He challenged the National Bureau of Statistics and the Office of the Chief Government Statistician Zanzibar to ensure that data to be collected during the census will be of high quality, relevant, accurate, timely, consistent and accessible.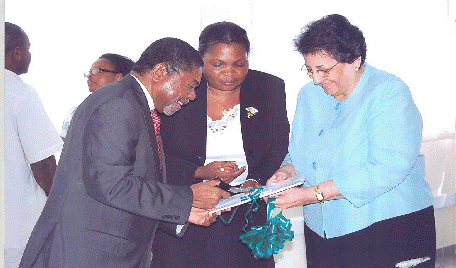 Tanzania Vice President Dr. Ali Mohamed Shein and UNFPA Executive Director and Under Secretary of the United Nations, Ms. Thoraya Obaid cutting a tape to launch the Tanzania 2012 Population and Housing Census Management and Implementation Strategy Handbook. In the centre is the Director General of the National Bureau of Statistics, Ms. Albina Chuwa
Dr Shein also stressed the need for National Bureau of Statistics (NBS) and other relevant authorities to mobilize and create public awareness that will facilitate effective participation of the general public in the entire exercise
NBS Director General, Albina Chuwa said the ground work for the next census had already started and that her organization was fully prepared to make the entire exercise success.
The Co-coordinator of the UN system in Tanzania Mr. Oscar Fernandez-Taranco assured of UN and other development partners full support to the census.
Executive Director of the UN Population Fund (UNFPA) and Under Secretary of the United Nations, Ms Thoraya Obaid expressed optimism that data generated from the 2012 census would give the Government an accurate, objective and reliable picture of the country's population. She said this is important in the new aid environment which places particular emphasis on achieving results and using evidence to develop policies and making decisions.
Tanzania has since independence conducted four Population and Housing Censuses in 1967, 1977, 1988 and 2002. The next census scheduled for 2012 will be the fifth after independence in 1961 and is expected to cost about US$ 90 million.