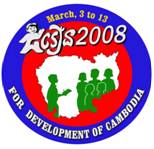 PRESS RELEASE
2008 Cambodia Population Census
Release of the 2008 General Population Census Preliminary Results
Phnom Penh 3 September 2008: Today, H. E. Sar Kheng, Deputy Prime Minister, Minister of Interior and Chairman of the National Census Committee released the preliminary results of Cambodia's second post-war population census at 0800 hrs at the Intercontinental Hotel.
The 2008 population census preliminary results show that the Cambodia population has increased by 1.95 million over the last 10 years from 11.4 in 1998 to 13.4 million in 2008. The population density of the country increased from 64 to 75 persons per square kilometre, but the annual growth rate declined from 2.49 % in 1998 to 1.54% in 2008. Kampong Cham continues to be the biggest province in terms of population size, but Pailin, Odd or Meanchey, Mondul Kiri, and Ratanak Kiri have the higher annual population growth rates. The average size of a household declined from 5.2 in 1998 to 4.7 persons per household in 2008. However, the number of households in the country increased at the annual rate of 2.7 per cent, that is, the higher household growth rate than that of the overall population.
H. E. Mr. Sar Kheng said the 2008 population census results are critical for the overall economic and social development of Cambodia, and will be useful for policy makers as well as local leaders and planners.
New innovations such as digitalized mapping and new topics on economic activity, disability, and maternal mortality were included during this census. The release of the final census report is expected Q3 2009.
The 2008 population census was conducted by National Institute of Statistics of the Ministry of Planning, under authority of the National Census Committee and the guidance of the Census Technical Committee and supported by the Royal Government of Cambodia, UNFPA, JICA, the Government of Japan, and the Government of the Federal Republic of Germany.
___________________________
Media Contact:
HE Mr. San Sy Than
Director General
National Institute of Statistics
Tel: +855-16-832 762
Email: sythan@forum.org.kh
Ms. Hang Lina
Deputy Director General
National Institute of Statistics
Tel: +855-12-723 107
Email: linahang2002@yahoo.com