News

20 June 2018 - The Sustainable Development Goals Report 2018 reviews progress in the third year of implementation of the 2030 Agenda presenting an overview with charts and infographics of highlights of the 17 Goals, followed by chapters that focus in more depth on the Goals under review at the high-level political forum in July 2018. Follow the launch live on 20 June at 11am ET via webtv.un.org

20 June 2018 - The Global SDG database containing updated data on the official SDG indicators has been released in June 2018. Data were compiled though the UN System and other international organisations in preparation for the Secretary-General's annual report on the "Progress towards the Sustainable Development Goals" (E/2018/64), its accompanying Statistical Annex and SDG Report 2018. The metadata repository containing the latest reference metadata information for the available indicator data has also been updated.
For detail information, visit the Global Database and metadata repository pages.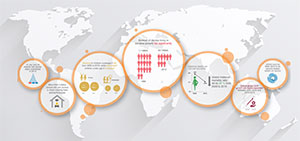 As part of the Federated Information Systems for the SDGs initiatives presented at the 49th Session of the UN Statistical Commission, the Statistics Division has launched an Open SDG Data Hub to promote the exploration, analysis, and use of authoritative SDG data sources for evidence-based decision-making and reviews.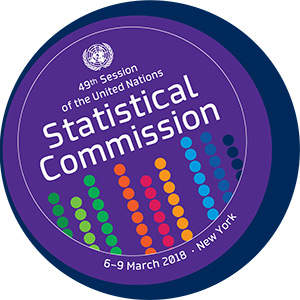 The 49th session took place in New York from 6‐ 9 March 2018.The draft report is available here .The 50th session of the Commission will be held in New York from 5‐ 8 March 2019.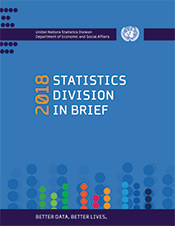 The United Nations Statistics Division is committed to the advancement of the global statistical system. Read more
Meetings and events
Beirut 12 - 16 November 2018
Tokyo 14 - 16 November 2018
Beijing 15 - 17 November 2018
Rio de Janeiro 21 - 23 November 2018
Paris 26 - 27 November 2018
New York 29 October - 1 November 2018
Dubai 22 - 24 October 2018
Tunis 10 - 14 September 2018
New York 11 July 2018
New York 20 - 22 June 2018
New York 21 - 22 June 2018
New York 18 - 20 June 2018
New York 16 - 18 May 2018
Port of Spain 15 - 18 May 2018
Addis Ababa 14 - 18 May 2018
Rome 7 - 9 May 2018
Equatorial Guinea 9 - 13 April 2018